Public Engagement Opportunities with the CDH Replacement Project
Your voice is vital to the success of Cowichan Valley Health and Care. We are committed to involving patient partners and community voices in our work. 
Public engagement opportunities related to the CDH Replacement Project will be posted on this page, shared on Island Health's social media pages and emailed to our project subscribers.
In addition, the project team is pleased to provide virtual presentations to community groups as schedules permit. 
2023
Tuesday, July 5: Indigenous Journey Mapping Session. The Project's Indigenous Relationships & Cultural Safety team is pleased to invite you to an interactive dinner session open to all Indigenous peoples in the Cowichan Valley.
June 26: Mark your calendar! Job Fair This event is a unique opportunity for local job seekers to connect with representatives from various employers who are actively recruiting, explore potential career paths, and learn about current and future employment prospects in the region.
February 2: Virtual Info Session - Join us on Zoom on Thursday, February 2 at 6 - 7:30 p.m. for an update on the future hospital. The Project team will provide a first look at the renderings and is looking forward to answering your questions.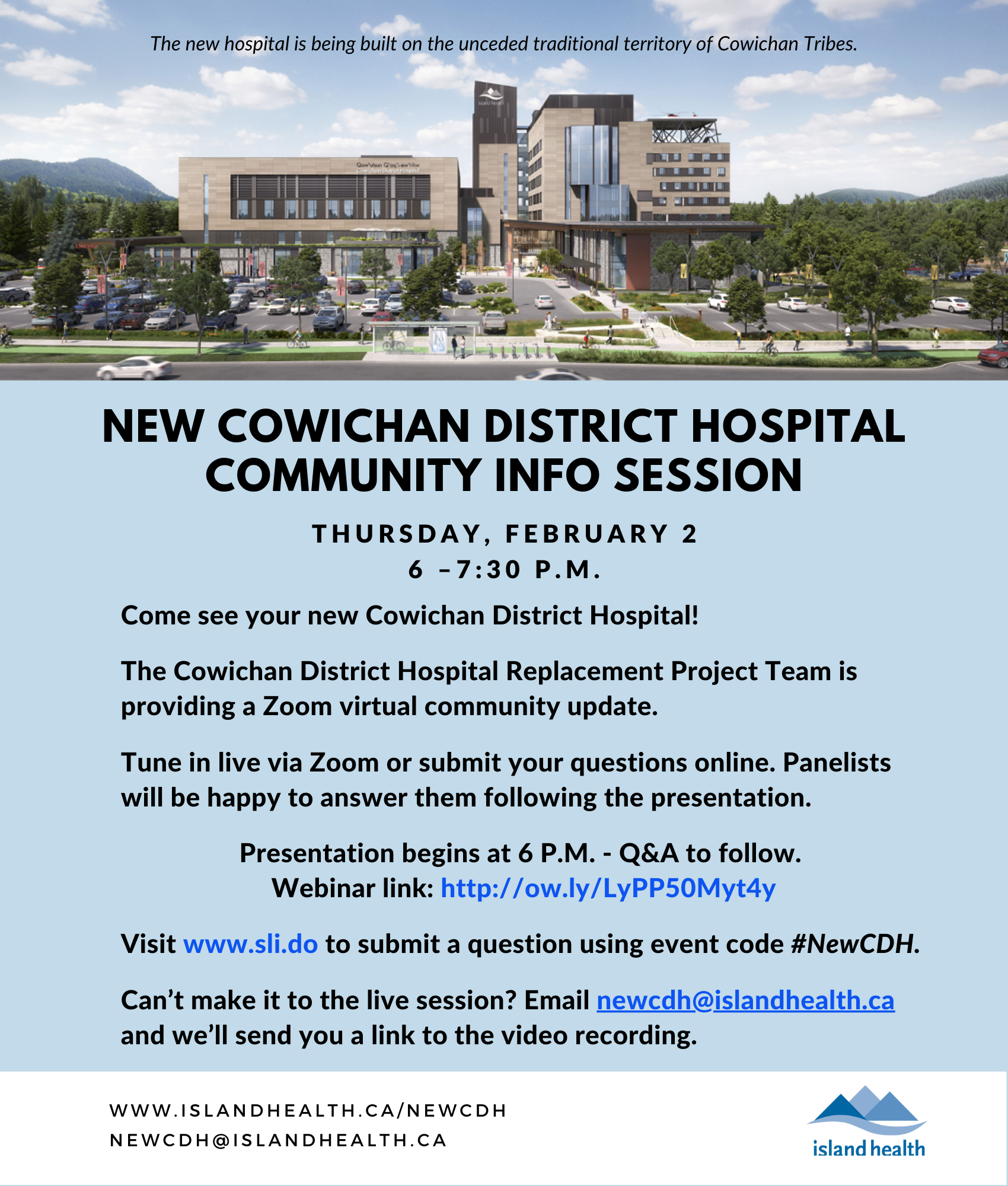 ARCHIVED EVENTS
2022
November 27: Join us at the job fair in Cowichan. Opportunities in construction and health care!
Thank you to all who stopped by to learn about and apply for employment, training and apprenticeship opportunities in Cowichan communities! Our hiring teams enjoyed meeting you and answering your questions, and are looking forward to working with you. All employers value diversity, equity and inclusion. Family-friendly event – children welcome to attend with their parent or guardian.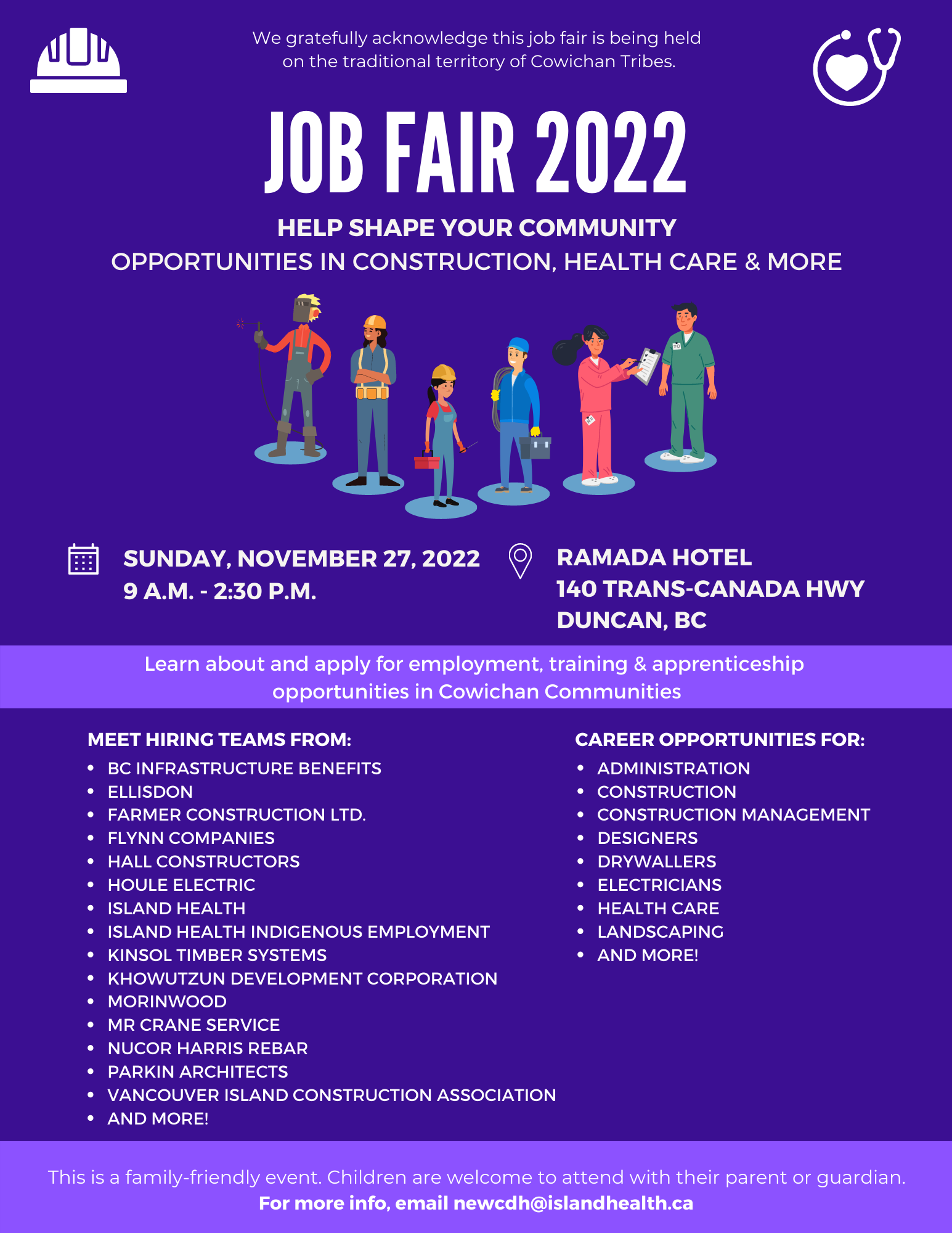 October 12: Call for Indigenous artists, ages 15-24. The Cowichan District Hospital Replacement Project invites First Nation, Métis, Inuit and Indigenous emerging artists, ages 15-24, to submit artwork that will be used to represent a Project Alliance working together to construct the new hospital in Cowichan.
Artwork Submission Form (Word)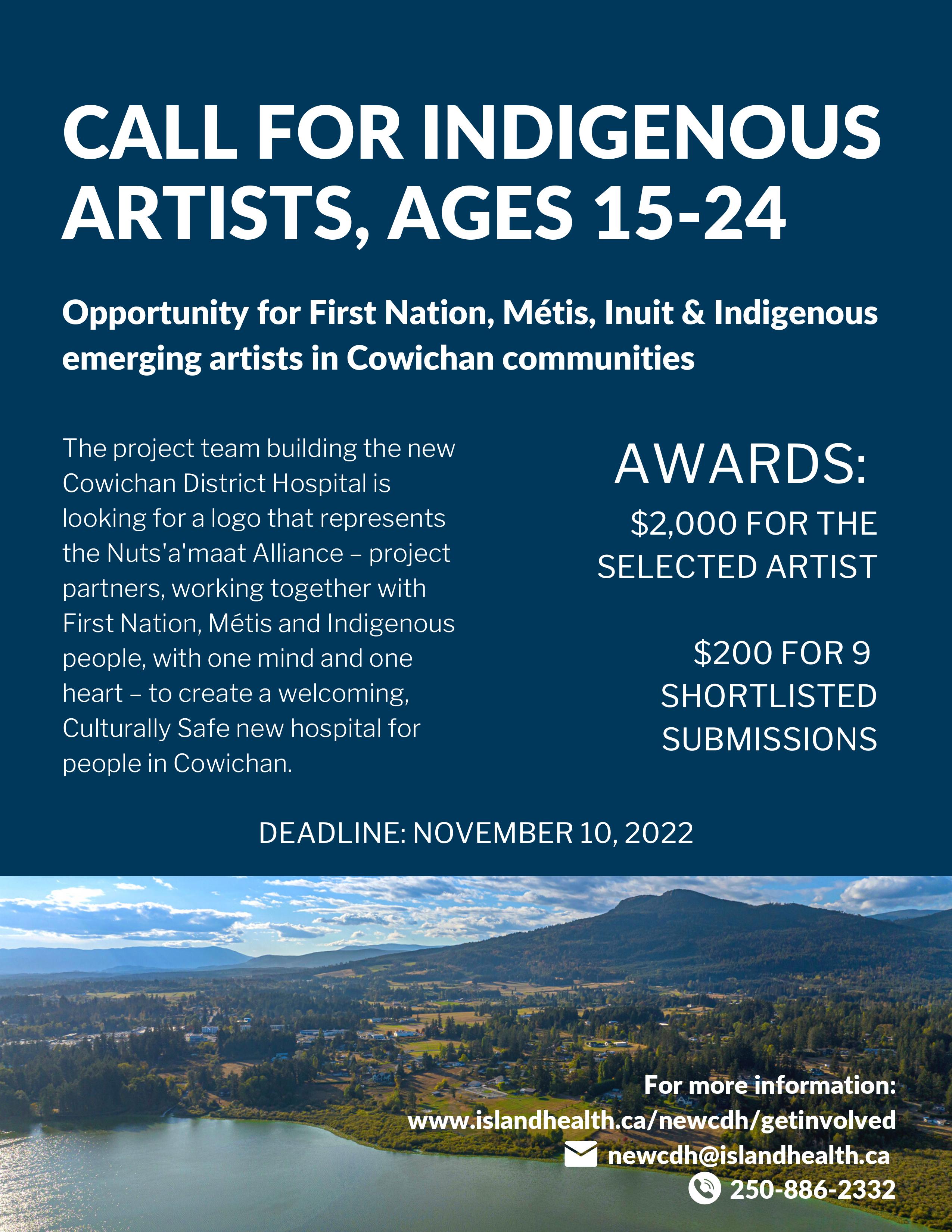 January 25: Thank you to all who responded to our call for Volunteer Patient Partners! We are reviewing your areas of interest and will be reaching out to applicants in the coming weeks. 
2021
November 16: Patient Partner volunteers needed – We're excited to welcome patient partners into our project. Advisory work begins in early 2022. To learn about how you can get involved as a member of our CDH Replacement Project Patient Partnership Group, kindly RSVP to our posting on the Patient Voices Network by December 15.

October 27: New Cowichan District Hospital Community Info Session – 6:00 p.m. – 7:30 p.m. via Zoom. (Click below to view video).
June 30: New Cowichan District Hospital Community Info Session - 6:00pm-7:30pm via Zoom. (Click below to view recorded session).
To request a presentation, ask a question, share your feedback, or subscribe to our project updates, email us at newcdh@islandhealth.ca
---
More ways to shape Cowichan Valley Health and Care
Do you have lived experience accessing health services and care as a patient or family caregiver? Please sign up as a patient partner with the Patient Voices Network of BC to find out how you can help shape the way health services are delivered in the Cowichan Valley and across the province.
Patient and family caregiver engagement opportunities related to the new hospital, as well as other health services, will be shared through the Patient Voices Network. 
Past engagement opportunities:
November 2019: Patient Partners needed to review proposed service improvements for people with lived experience with: Chronic Obstructive Pulmonary Disease (COPD), palliative and end-of-life care; or multiple chronic health conditions. (Postponed due to scheduling conflicts and pandemic response.)
September 23, 2019: Thank you to patient partners who provided input to improve the Patient Admitting & Registration process. Your feedback helped inform the business plan to replace Cowichan District Hospital. 
April 16, 2019: Thank you to all patient partner volunteers who participated in the CDH Replacement Project consultation session in Duncan on April 16.
November 23, 27, 28, 29, 2018: Open House Information Sessions - Thank you to all who joined us for a discussion about health care and plans for a new hospital. You can view poster boards and information sheet from these events, and read a summary of what we heard and our next steps here.