About the Cowichan District Hospital Redevelopment Project - Project Vision & Overview
With the business plan approved, the next step in the planning process is the procurement phase. 
Planning and construction for a new facility is a five-step process that will take place over the span of several years.
Project Phases 
Concept Plan: Establishing the need to replace CDH (one year, approved summer 2018)
Business Plan: Determining how to replace CDH. (two years, approved summer 2020)
Procurement: Who will build it and how? (18 months) We are here.
Design & Construction: Final architecture, engineering and construction (3.5 years)
Operations: Transfer of the building to Island Health to run (6 - 12 months - ongoing)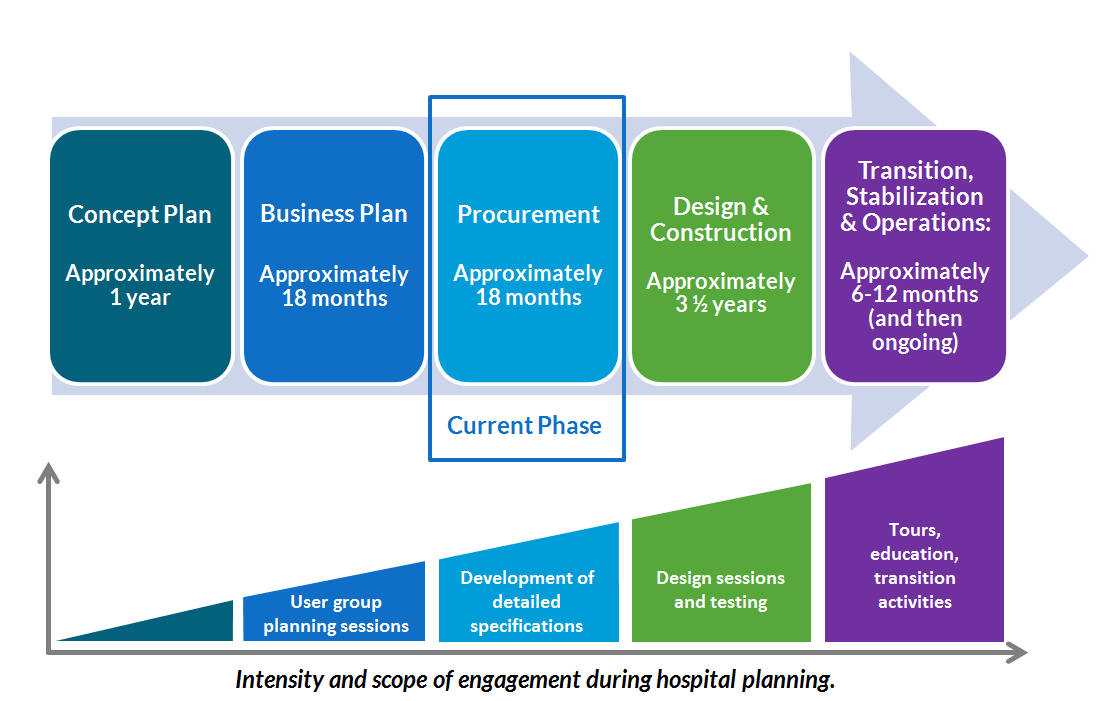 Project Milestones:
January 2013 - Island Health confirmed its commitment to replace Cowichan District Hospital (CDH). 
Summer 2018 - The concept plan to replace CDH approved by provincial government.
Summer 2020 - the business plan to replace CDH approved by provincial government.
Spring 2021 – Anticipated early works 
2022 – Anticipated start of design and construction phase
2026 – Anticipated opening 
Building a community of care for a community that cares 
The new Cowichan District Hospital will be a reflection of the province's vision for a new model of health-care in B.C. that puts patients, families and communities at the centre of care decisions. This model integrates services across the continuum of care, and shifts non-acute care out of hospitals, bringing services closer to people in their communities.
The vision puts as much focus on helping people to stay healthy, address episodes of minor acute illness and better manage their chronic illnesses, as on providing high-quality critical and acute care services when they are very sick, supported by technological innovation. The project builds on our care providers' long-standing commitment to delivering seamless, patient-centred health services to people across the Cowichan Valley.
The hospital will offer an integrated care model by blending Island Health's hospital-based services with the myriad of primary care and community-based health services and support programs, both on the new site and in the broader community, in partnership with other service providers working in the region. 
By connecting emergency, surgical and acute hospital-based care with community and primary care, the new Cowichan District Hospital will enable smoother transitions for patients at home, in the community or in the hospital — wherever their needs are best met. This coordination will help healthy people stay healthy, while providing high-quality care when they are very sick. It will also result in reduced wait times, better quality care, better health outcomes, a better experience for our patients and their families and improved value for health-care dollars.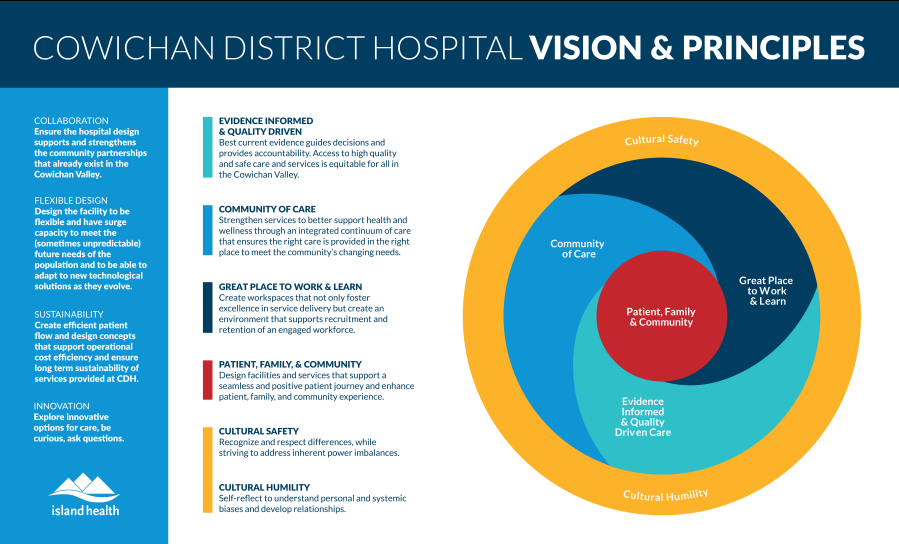 About the new Cowichan District Hospital 
The new CDH will continue its long-standing tradition of providing high quality care to people in Cowichan Valley communities.
The new hospital will be located on Bell McKinnon Road in North Cowichan.
The new hospital is anticipated to be 46,000 square-metres (496,000 square-feet) in size, nearly three times larger than the current facility and will have 201 beds, up from 134 in the current facility.
The emergency department will be triple the size with an increase in the number of treatment spaces from 17 to 44. 
There will be seven operating rooms, an increase of three, with one dedicated to C-sections, as well as increased CT scanning capacity and built-in magnetic resonance imaging (MRI).
Mental health services will be brought up-to-date with a 17-bed inpatient psychiatry unit with access to secure outdoor space and a four-bed psychiatric intensive care unit as well as dedicated acute psychiatric zone in the emergency department. 
There will be a new birthing unit with a capacity for 10 obstetrics beds and a nursery for families and new moms. The new Labour, Delivery, Recovery and Postpartum maternity care model will provide mothers a place to give birth and to stay in the same room with their infants until they are discharged. 
The paediatric unit will have eight beds, four of which can be used to provide care to paediatric mental health and substance use patients. This is double the paediatric beds in the current hospital, and will help families avoid a drive to Nanaimo or Victoria when they need access to these important services for children and youth.
Culturally safe spaces will be part of the new hospital to accommodate traditional healing practices, cultural practices and room for loved ones to support patients during stays. 
The hospital will also be a training site for medical students in the University of British Columbia Island Medical Program. 
800 parking spots will be available; an increase of 400 parking spots over the current facility, and parking will be free of charge.
Designing the new hospital and community of care around improved patient experience and provider wellness, means our patients and staff will benefit from spaces that not only flow but are well laid out and incorporate healing design.
Please email newcdh@viha.ca if you have additional questions or feedback.