The Capital Regional Hospital District and Island Health are working together to build The Summit—a 320-bed seniors residential care facility at 955 Hillside Avenue in Victoria. Opening in early 2020, The Summit will replace Oak Bay Lodge and Mt Tolmie Hospital, and will be a state-of-the-art long-term care facility that will serve seniors who have dementia or complex care needs.
Since the project began in 2015, the project team has gathered input from community members, residents, families and staff to help guide the integrated design process. Consultation and information sessions are ongoing.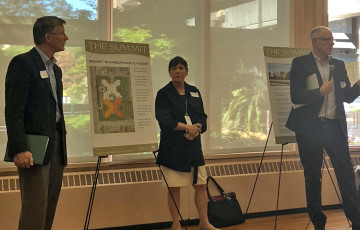 Frequently Asked Questions
The Summit FAQs will be updated throughout the project and posted on our website and on info boards at Oak Bay Lodge and Mt. Tolmie Hospital. Bookmark and come back to this webpage to stay updated.
Q: When will the move take place?
We are planning to move in the early months of 2020.
Q: Is there a website where we can find up to date information as construction continues?
Yes. Visit us at this webpage for information about The Summit.
Q: How many floors will the facility have?
There will be four floors. Floor 1 will have 32 resident rooms, the main foyer, an Adult Day Program, meeting rooms and service areas. Floors 2-4 will have 96 rooms each.
Q: Within the facility, what are "Neighbourhoods" and "Houses"?
Floors with 96 rooms will be divided into two "Neighborhoods" of 48. Each of these Neighbourhoods will be grouped into "Houses" of 24. The main floor will have one Neighbourhood of 32 residents, grouped into two houses of 16. Each House will have their own dining room, lounges, outdoor and activity areas. See a visual of this concept on our website.
Q: How many residents will there be?
There is space for 320 residents.
Q: Will there be the option of spouses living together in one unit?
When both people are eligible for residential care, Island Health makes every effort to place couples in a facility together.
Q: What are the room sizes and are they all private rooms?
All rooms are private. Each one is 21.7 square meters, which includes an ensuite with a shower, toilet and sink.
Q: Will parking be provided for staff, volunteers and delivery vehicles?
The site will have an underground parkade as well as a dedicated area for shipping and receiving. Discussions are underway to determine how best to allocate parking for staff, visitors, physicians and volunteers. The Summit is located along a major bus route.
Q: Will there be a garden area?
Yes. The Summit will have ample outdoor space that includes a large central courtyard and several patios for residents and visitors to enjoy.
Q: Will food be cooked on-site and will visitors be able to have a meal with residents?
Food will be cooked on-site by Island Health food services staff. Guest meals will be available for purchase.
Q: Will there be space for activities as well as space to engage with visitors?
Yes. Each floor will have dedicated activity rooms and lounges. If residents prefer more privacy they can retreat to their private rooms for visits.
Q: How is access to the building controlled to ensure the safety of residents and staff?
The facility can only be accessed through the front door or from the secure parkade. Both entry points open into a reception area that will be staffed during the day. The front door will lock at night with a security camera and call button that will be monitored prior to permitting entry to the facility after hours.
Q: Will staff be transferring to the new site and if so, can staff and residents stay together?
Current staff will have the option to transfer to The Summit. While it cannot be guaranteed, keeping residents and care staff together will be considered as part of our planning for the move to the new facility. 
Q: Will there be more or less staff at the new facility?
It is expected that Island Health will be hiring more staff to ensure care and service continuity at The Summit.
Q: What medical care will be available on-site 24 hours a day?
Nursing staff will be on-site, 24 hours a day, 7 days a week.
Q: Will residents have a choice of where to go when the new facility is ready?
Consultation will occur with residents and families prior to the move to identify if they would like to move to The Summit or another facility. Every effort will be made to fulfil their wishes.
Q: Will Wi-Fi be available?
Yes.
Q: Will residents be allowed out into the community?
Yes. Staff, residents and visitors are encouraged to engage with the surrounding community while respecting each individual's choices and care needs.
Q: Will there be a fence around the perimeter?
No. At this time there is no plan for a fence around the perimeter; however, there are secure outdoor areas for those residents who require it.
Q: Is there space for residents and visitors to walk outside?
Yes. There will be a path along the perimeter of the grounds for residents and visitors to enjoy.
Q: What is going to happen to the existing facilities?
At this time there are no official plans for the Oak Bay Lodge and Mount Tolmie facilities. It is anticipated that these decisions will be made at a later date.
Contact Us
Email: