The temporary Esquimalt UPCC offers access to a set of limited services that focus on individual primary care needs that can be provided by a Registered Nurse (RN), a Certified Practice Nurse (CPRN) or a Mental Health and Substance Use Consultant (MHSU Consultant.)
There are no primary care providers (family physicians or nurse practitioner) currently on site at the temporary Esquimalt UPCC. 
Services available at the temporary Esquimalt UPCC are appointment based, with same day or next day appointments as available.   
Services offered include:
Nursing Services

Diagnosis and treatment for minor acute illness related to: 

Ear, nose and throat (i.e. suspected infection)
Genitourinary (i.e. urinary tract infection)
Respiratory (i.e. suspected infection)
Skin (i.e. skin rash, wound care) 

Mild pain management interventions
Chronic disease management, ongoing wound care
Reproductive health 

Contraceptive management
Sexually transmitted infection screening & treatment 
Pap smear screening
MHSU Clinician Services

Patients with mild to moderate mental health and substance use needs. No age constraints.  

Single session therapy
Brief solution-focused therapy 
Screening, assessment, brief intervention 
COVID-19 PRECAUTIONS
All visits will be conducted by telephone first. If an in-person visit is necessary, prior to entering the clinic, patients will be screened for COVID-19 symptoms, and asked to follow Public Health guidelines (non-surgical masks and hand hygiene).  
AREA RESIDENTS LOOKING FOR A FAMILY DOCTOR OR NURSE PRACTITIONER:
At this time, the temporary Esquimalt UPCC will not be offering attachment to a primary care provider (Physician or Nurse Practitioner). Once the permanent Esquimalt Urgent and Primary Care Centre opens, planned for December 2021, a full complement of primary care services will be available including access to an expanded health care team.  
OUR HEALTH CARE TEAM:
Certified Practice Nurse (RN)
Community Health Nurse (RN)
Mental Health and Substance Use Consultants 
Medical Office Assistant 
To help you choose the right care for yourself or a loved one, here's a guide to help you know where to go based your healthcare needs.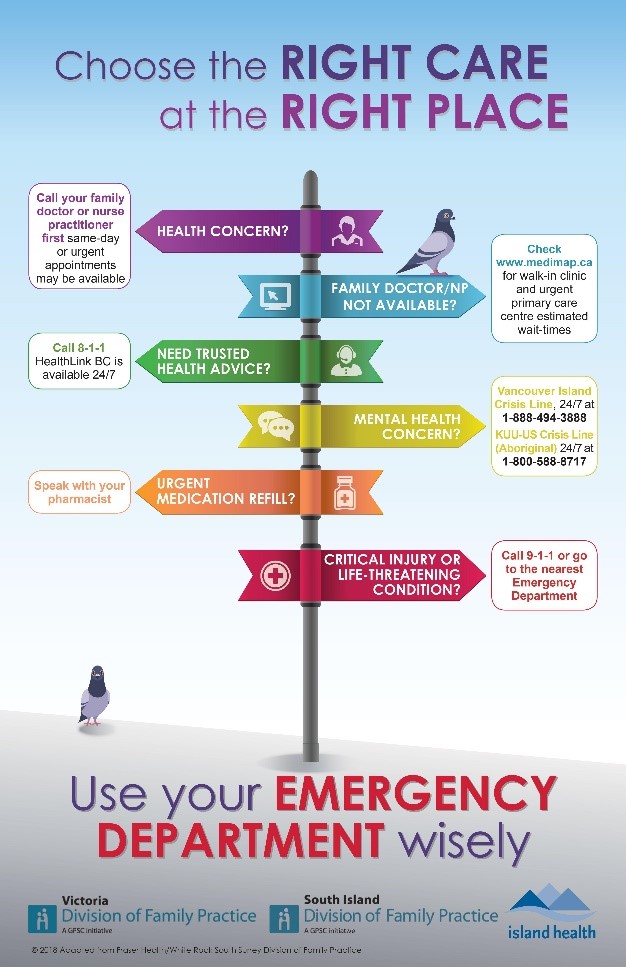 Click HERE to enlarge
 
Doctor's or Nurse Practitioner's Office: Your primary care provider should be your first call in non-emergency situations. Your provider knows you and your health history, including which medications you are taking and what chronic conditions might need to be considered in your treatment.  Same day appointments may be available - ask your provider. 
If your provider is unavailable or if you don't have a provider, try a walk-in clinic or Urgent Primary Care Centre (UPCC).
Call 8-1-1 for trusted health advice at HealthLink BC.
Walk-in Clinic: If you have an illness that is not an emergency – like a sinus infection or minor sprain or strain – and you cannot get in to see your primary care doctor, local walk-in clinics are available for same-day care. 
Emergency Department: Emergency departments are designed to treat urgent, acute and life-threatening conditions and aren't the place for routine care or minor ailments. If you are experiencing a medical emergency, call 9-1-1 or go to your hospital emergency department right away. 
Still unsure where to go?
HealthLink BC offers 8-1-1, a free provincial health information and advice phone line available for residents of British Columbia. By calling 8-1-1, you can speak to a health service navigator, who can help you find health information and services; or connect you directly with a registered nurse, a registered dietitian, a qualified exercise professional, or a pharmacist. Any one of these healthcare professionals will help you get the information you need to manage your health concerns, or those of your family.
OTHER HEALTH CENTRES AND PRIMARY CARE CLINICS WITH ISLAND HEALTH STAFF IN THE GREATER VICTORIA AREA INCLUDE:
Urgent and Primary Care Centres
Nurse Practitioner Primary Care Clinic
Community Health Centres
530 Fraser St
Victoria, BC 
V9A 6H7 
250-519-3880
Hours of Operation
Monday – Friday: 8:30 a.m. – 3:30 p.m.