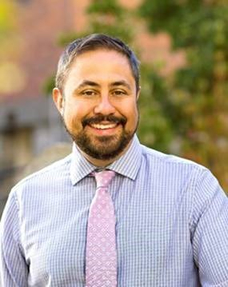 Alex Henri-Bhargava, MDCM, MScCH, FRCPC
Medical Director, Neil and Susan Manning Cognitive Health Initiative
Clinical Associate Professor of Medicine (Neurology), UBC
Neurologist, Island Health
Overview
Dr. Henri-Bhargava is a neurologist with fellowship training in behavioural neurology, as well as a master's degree in Health Practitioner Teacher Education. He works in Victoria where his outpatient practice is focused on cognitive disorders like dementia, and conducts clinical trials related to these conditions. As Medical Director of the Neil and Susan Manning Cognitive Health Initiative, he oversees health systems research to help clinicians better assess and treat cognitive disorders. 
Research
Dr. Henri-Bhargava's research interests include dementia and cognitive disorders, clinical trials, health system improvement, and medical education. He is Primary Investigator for the Comprehensive Assessment of Neurodegeneration and Dementia (COMPASS-ND) study through Island Health's Clinical Trials Unit, and has recently received a research grant to track cognitive impairment using mobile EEG (electroencephalogram to record electrical signals in the brain).
Selected Publications and Presentations 
Creating a Learning Health System to Improve Care: The Cognitive Health Initiative. Victoria, BC, November 2019. Knowledge-to-Action Month, Island Health. View a recording.
Shi, G., S. Lee, Y. Yuen, J. Liu, Z. Rothman, P. Milaire, S. Gillis, A. Henri-Bhargava. 12 Tips for Creating High Impact Clinical Encounter Videos – with Technical Pointers. MedEdPublish,2019; 8(2): 22, https://doi.org/10.15694/mep.2019.000092.1
Henri-Bhargava, A., D. Stuss and M. Freedman. Clinical Assessment of Prefrontal Lobe Functions. Continuum: Lifelong Learning in Neurology. 2018 Jun; 24(3): 704-726.
Pfanner, T., A. Henri-Bhargava and S. Borchert. Cerebrospinal Fluid Biomarkers as Predictors of Shunt Response in Idiopathic Normal Pressure Hydrocephalus: A Systematic Review. Canadian Journal of Neurological Sciences. 2018 Jan; 45(1): 3-10.
A Clinical Approach to Rapidly Progressing Dementias. Dialogue on Ageing, Geriatric Services Conference, Tapestry Foundation, Vancouver, April 2017. 
Henri-Bhargava, A., M. Freedman, and D. Stuss. Function and Dysfunction of the Prefrontal Lobes in Neurodegenerative Diseases. Chapter in G.P. Gliebus, ed. Progressive Cognitive Impairment and its Neuropathological Correlates, Nova Science Publishers; 2016. (ISBN 978-1-63485-221-0)
Furlan, J., A. Henri-Bhargava and M. Freedman. Clomipramine in the Treatment of Obsessive Behavior in Frontotemporal Dementia: A Case Series. Alzheimer Disease and Associated Disorders. 2014 Jan-Mar; 28(1): 95-98.
Henri-Bhargava, A. and M. Freedman. Clinical Phenomenology of the Frontotemporal Dementias. Chapter in M.J. Strong, ed. Amyotrophic Lateral Sclerosis and the Frontotemporal Dementias, Oxford University Press; October 2012. (ISBN 978-0199590674)
Henri-Bhargava A., A. Simioni, and L.K. Fellows. Ventromedial Frontal Lobe Damage Disrupts the Accuracy, But Not the Speed, of Value-Based Preference Judgments. Neuropsychologia. 2012 Jun; 50(7): 1536-42.
Henri-Bhargava A. and M. Freedman. Executive Dysfunction in Delayed Radiation Leukoencephalopathy. Canadian Medical Association Journal. 2011; 183(12):1401.
Grants
Centre for Aging + Brain Health Innovation (Baycrest) SPARK Program Grant ($50,000), "Using Mobile EEG to Track Changes in Cognitive Impairment Over Time"