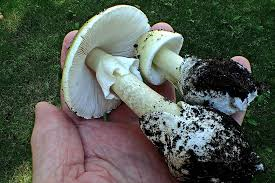 What is a death cap mushroom?
The scientific name is Amanita phalloides. These are extremely toxic mushrooms that can cause severe illness and may be lethal if ingested by people and especially children. They can be found in various environments around Greater Victoria, and are also dangerous to pets.
What do death cap mushrooms look like?
The death cap is often pale and yellowish in colour with a large cap and skirting underneath it. It often has a faint, honey-sweet smell. Death cap mushrooms can be confused some with edible mushrooms, such as puffballs and paddy-straw mushrooms.
Where do they grow?
This species of mushroom is not native to Canada. It typically grows in cities under various species of imported trees, such as beech, hornbeam, chestnut, English oak and has been recently observed growing with native Garry Oak trees. They can occur in any rural and urban environment.
How do I protect myself and my family?
Buy mushrooms from a retail store that receives their products from a commercial source.
If you are uncertain or unsure – do not eat wild mushrooms from an unknown source.
Do not pick wild mushrooms unless you are knowledgeable about local varieties of mushrooms or are foraging with a person who can accurately identify them.  It's worth repeating - death cap mushrooms can be confused with some edible mushrooms, such as puffballs and paddy-straw mushrooms.
What are the risks of ingesting a death cap mushroom?
Illness after eating death cap mushrooms is very serious: up to 30% of people who eat a death cap will die.  Liver transplants are an often necessary life-saving procedure. Early treatment in hospital is essential.
Gastrointestinal distress (nausea/vomiting) begins about 8 to 12 hours after ingestion.  After up to 24 hours have passed, symptoms seem to disappear and people can feel fine for up to 72 hours.  However, liver and kidney damage symptoms start 3 to 6 days after mushrooms are eaten.
Why are we hearing more about death cap mushrooms and earlier in the season than we usually do?
Death cap mushrooms usually fruit in the fall; however, intensive lawn watering may cause the mushrooms to grow earlier. In July 2018 death cap mushrooms were observed growing in the Uplands and Cedar Hill areas by the South Vancouver Island Mycological Society.  On July 17, 2018 Island Health issued a news release on the early fruiting of death cap mushrooms in Greater Victoria.
What do I do if I've accidentally ingested a death cap mushroom?
If you suspect that you have consumed a poisonous mushroom:
Go to the nearest hospital
Call the BC Drug and Poison Information Centre at 1-800-567-8911 or call 911
Keep a sample of the mushroom for testing
How do I properly dispose of death cap mushrooms?
Wear rubber gloves when removing them, then wash your hands thoroughly
Discard the mushrooms in the garbage container.  Do not compost or use the food recycle garbage bin! Remove the mushrooms before mowing the lawn to avoid local spread. 
When removing the mushrooms, the bulbous base needs to be removed as well
Unless necessary avoid lawn watering to conserve water and to suppress early fruiting of death caps.
 
For more information: The BC Centre for Disease Control and Poison Control Centre chair a working group on death cap mushrooms to help inform cities, municipalities, health authorities and the public about the risks.  Please see: http://www.bccdc.ca/health-info/food-your-health/fruits-vegetables-grains/wild-mushrooms