Employment Opportunities at Cowichan District Hospital (CDH)
Live, work and play in Vancouver Island's Warm Land. 
Are you interested in working at Cowichan District Hospital (CDH)? Start the conversation with one of our friendly recruiters! Email Talentacquisition@islandhealth.ca. 
Did you know? Nursing positions in the Cowichan Valley are eligible for the Federal Student Loan Forgiveness Program.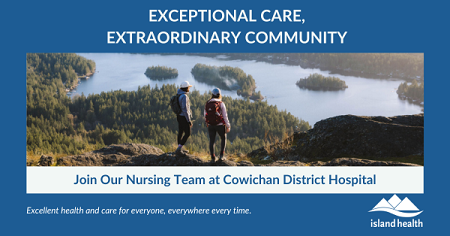 Learn more about Nursing opportunities at Cowichan District Hospital.
Our Hospital
A new hospital build is underway at 6775 Bell McKinnon Road in North Cowichan. It will be over three times larger than the current facility and is scheduled to open for patient care in 2027. Learn about the Cowichan District Hospital Replacement Project.
Our Community
The Cowichan region gets its name from "Quw'utsun', an Indigenous word meaning 'the warm land'. With one of the warmest year-round climates in Canada, it's no wonder the valley is rich with thriving farmlands and farmers markets. 
The Cowichan Valley is home to scenic hiking and biking trails, year-round kayaking, golfing, whale watching, wineries and craft breweries. If you can name it, there's a club or sports league for it in Cowichan.
Downtown shops, farm-to-table restaurants and live music venues make downtown Duncan the place to be. The Cowichan Valley's temperate coastal climate is as warm and welcoming as it's 83,739 residents.
Located between Victoria and Nanaimo, Duncan is easily accessible by car, float plane (Harbour Air and Salt Spring Air) or by BC Ferries. The Cowichan Valley comprises the following communities: Duncan, Shawnigan Lake, Cobble Hill, Mill Bay, North Cowichan and Chemainus. The Nanaimo airport (YCD) is a 35 minute drive from Duncan. The Victoria airport (YYJ) is an hour and a half drive from Duncan.   
Our Team
We have over 800 employees at CDH supported by an engaged leadership team which fosters a culture of quality and safety for patients and staff. Our community is unique in its ability to build on its strengths and come together across service sectors to support individuals when they need us most. It is our sense of community that makes our care for the people of this region so inspiring. Working in partnership with our regional district, the Division of Family Practice, local First Nations and community service providers has enabled us to make amazing strides together.
As Vancouver Island's largest employer, we offer competitive wages, exceptional employer paid premiums, including medical, dental, extended health and life insurance, however that's only part of it. We can offer you a supportive friendly multidisciplinary team here are CDH, who welcome you with a clinical educator supported orientation and ongoing professional development opportunities.
We are committed to the Island Health values of Courage Aspire Respect and Empathy with every aspect of the work we do and if you have a passion for excellence we are the team for you.
---
As a community hospital serving three First Nation communities and seven municipalities, the Cowichan District Hospital is the hub for culturally diverse health care in the Cowichan Valley. Situated in the heart of Duncan, we have 134 funded beds and help more than 33,400 patients who visit our Emergency room each year. We work closely with the UBC Medical Program to offer educational opportunities for Medical Students and Residents to enhance our Emergency team.
Hospital Services:
Cancer Clinic
Critical Care Unit
Cystoscopy
Diagnostic Imaging Services, including CT Scan and Ultrasound
Emergency Room (24/7)
In-patient Psychiatry
Laboratory Services
Maternity / Pediatric
Medical / Surgical
Out Patient Services
Pharmacy
Rehabilitation
Community Health Services:
Adult Day Programs
Ambulatory IV Clinic
Chemainus Urgent Care
Community Health Services
Complex Seniors Mental Health
Ladysmith Urgent Care Centre
Lake Cowichan Integrated Health Network
CDH Emergency Room Services:
12 stretchers
Two bay trauma room
Eight Streaming chairs dedicated for CTAS 3 patients or lower
Five monitored beds
Five telemetry capable beds
Two seclusion rooms
LPN Fast track area
One gynecological and negative pressure room
One suture/casting room
One EENT room
One pediatric room
Crisis Response Team (CRT)
Forensic Nurse Examiner (FNE)
Prevent Alcohol and Risk-Related Trauma in Youth P.A.R.T.Y. Program for high school students
Get to know our staff (videos)