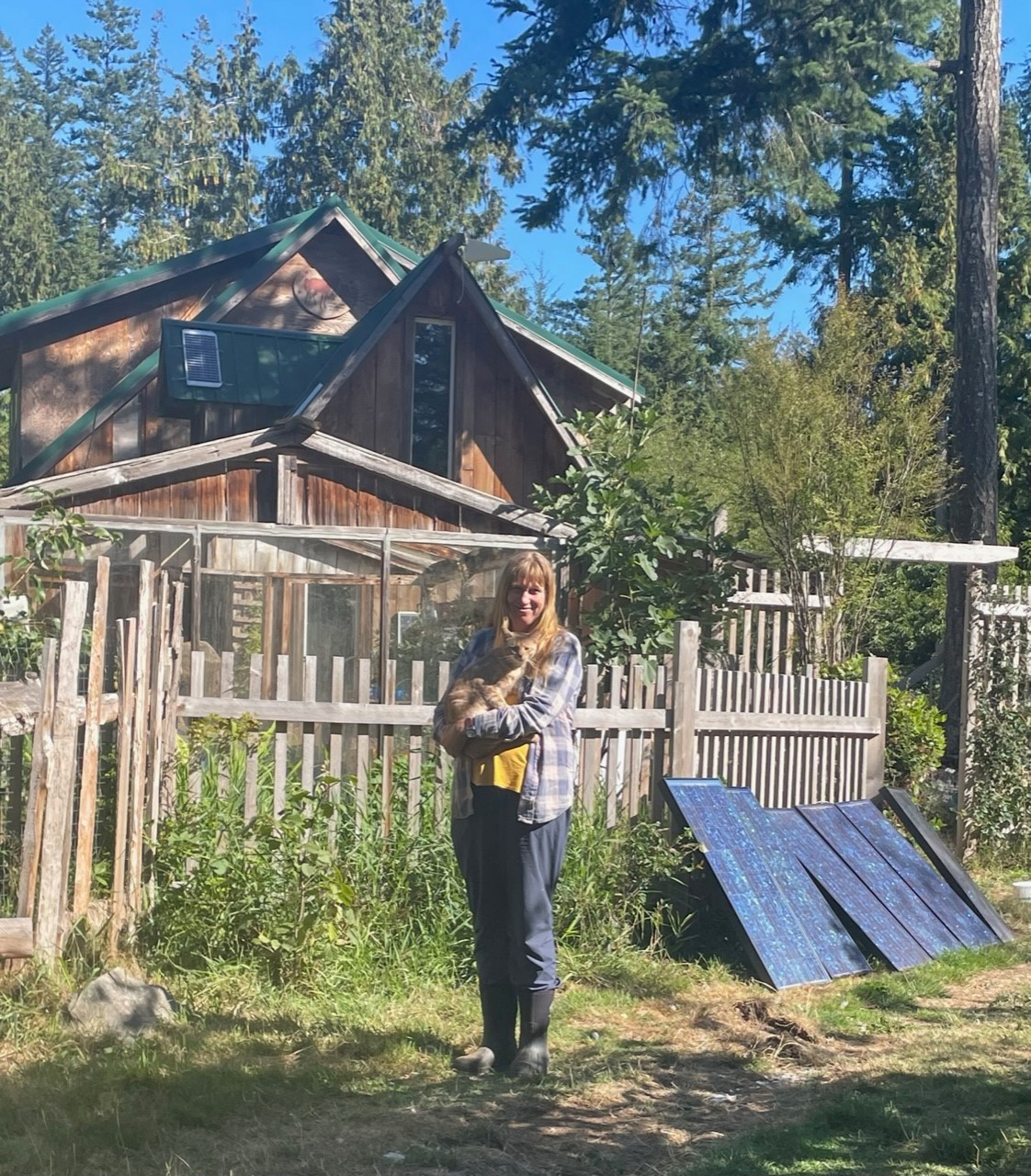 Heather Jansen is an Island Health registered nurse who grew up living off-grid on the traditional territory of the Homalco First Nation, on Read Island. "It's a simple life and completely different than normal living," she said. With the island only accessible by boat, Jansen and her husband and the youngest of their four children live minimally off the land, tending to 1 ½ acres of garden, and canning and preserving their food.
"We have learned to live with less," Jansen explained. "This is how I grew up out here, riding my horse to school, tending to the garden, and picking oysters at night at my family's clam and oyster farm. It's not for everyone, but it's the life we choose." 
Through an innovative Island Health program called Community Virtual Care, Jansen supports patients remotely via Zoom or phone from her home to wherever the patient resides. She educates and supports people diagnosed with chronic health conditions such as diabetes, chronic kidney disease, hypertension, heart failure and COPD. 
There are virtual programs to support caregivers wishing to strengthen their emotional wellbeing and coping skills, and to support clients living with a life-limiting or palliative diagnosis. Patients with mild to moderate symptoms from heat-related illness, wildfire smoke inhalation, COVID-19 and influenza can also be monitored.
"The demand for virtual care has experienced significant growth within Island Health due to the increasing demand for health-care services," said Doreh Mohsenzadeh, Director of Seniors Health and Community Virtual Care. "We are continually developing new programs to help clients manage their conditions from the comfort of their homes and receive more than 300 referrals per month, up from 50 per month just two years ago."
Each of the free virtual care programs is delivered by registered nurses like Jansen, and also pulls in social workers, dieticians, pharmacists and other team members as required. The nurses assess clients over the phone to monitor their symptoms, connect them with services, and ensure they seek urgent medical care as required.
"Although I work with many clients living across a huge and geographically diverse region within Island Health, I especially enjoy supporting the patients who live rurally and remotely because I understand their challenges around access to transportation and healthcare services," she said. "Having Island Health offering a program like Community Virtual Care really opens the door for both patients and employees who prefer to live in rural and remote locations." 
Although Jansen has lived off-grid most of her life, due to school and work she sometimes has had to leave her home. When transitioning from working as a mid-wife to a registered nurse, she and her family moved to 'town' (Campbell River) for three years as it was more convenient for her shift work schedule while raising three teenagers. After the COVID-19 pandemic hit, they returned 'home' to Read Island and Jansen commuted to nearby islands to work in their health clinics and offer COVID vaccinations. Today, she is very happy to be able to work from home with the Community Virtual Care Program. 
"It's wonderful to be back on our homestead, with our gardens, wells, rain barrels and fruit trees," she shared. "Although we have our challenges, such as planning ahead for water taxi grocery deliveries, collecting and filtering our water, and using an outhouse, we are also teaching our children many life skills for sustainable living, and we have an incredible, supportive community of friends here."
With solar panels and a winter water system that generates electricity for power, and recent access to Starlink for satellite internet access, Jansen feels much more connected to the outside world. 
"It's really the best of both worlds, living off-grid and still being able to provide much-needed care and services for our clients without requiring me to relocate. I'm so appreciative to Island Health for looking at innovative ways to support their nurses and care for their patients at the same time."
---
To learn more about Island Health's Community Virtual Care program, part of the Seniors Health & Community Virtual Care department, visit islandhealth.ca/cvc.
You can refer yourself or a loved one by calling your local Community Access Centre:
South Island: 250-388-2273 Toll Free: 1-888-533-2273 
Central Island: 250-739-5749 Toll Free: 1-877-734-4101 
North Island: 250-331-8570 Toll Free: 1-866-928-4988