Nanaimo Regional General Hospital has a beautiful new piece of Coast Salish art enhancing its main entrance to honour the partnership between Snuneymuxw First Nation and the hospital.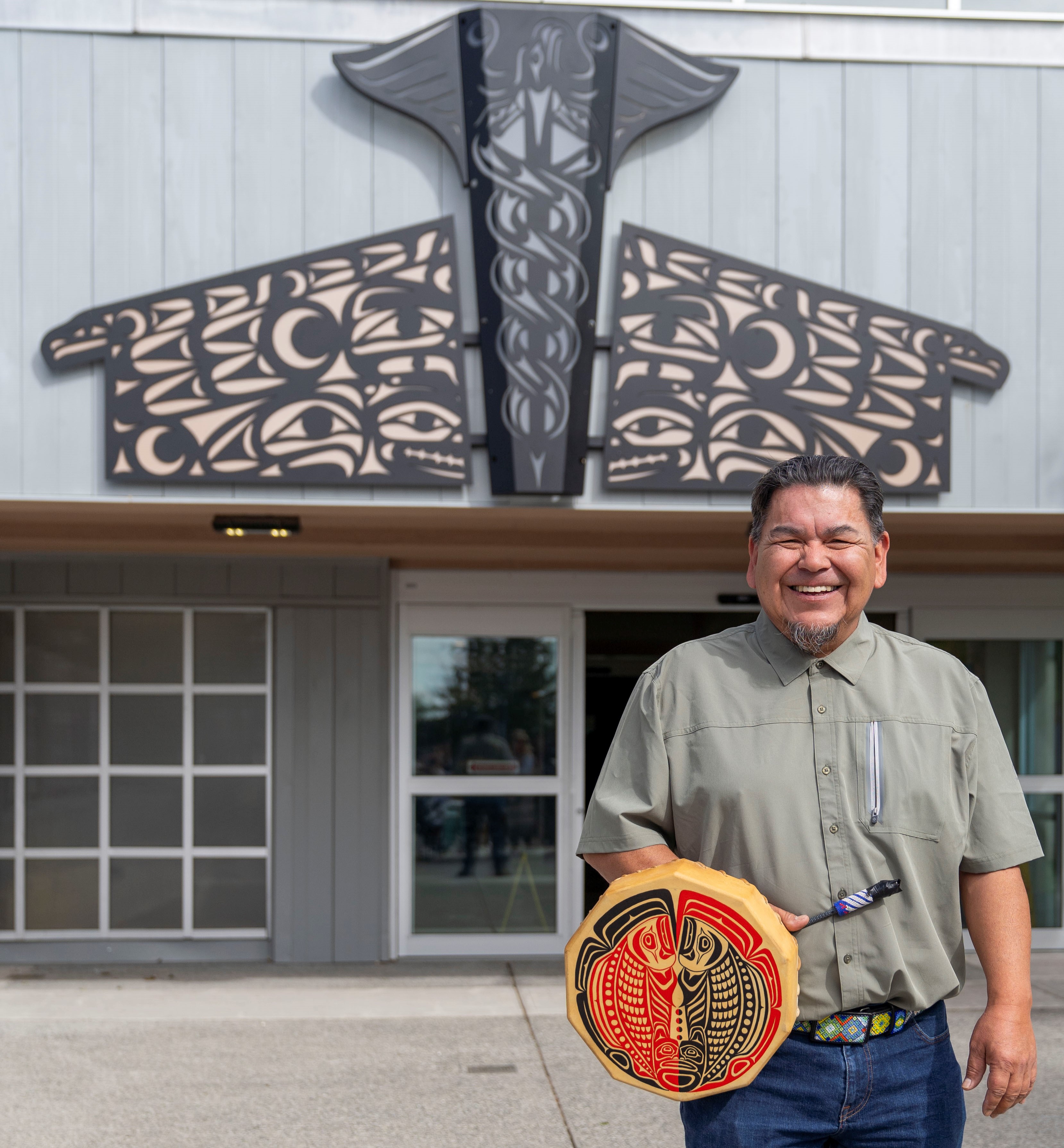 Image of Noel Brown at the unveiling of Noel's commissioned art for NRGH
Snuneymuxw Elders helped unveil the aluminum sign designed by renowned Coast Salish artist, Noel Brown, who is a member of the Snuneymuxw First Nation.
"Seeing Indigenous art in public spaces like NRGH, and sharing culture through art, is both beautiful and welcoming" said Sheila Malcolmson, MLA for Nanaimo. "We are working hard to make healthcare feel safer and better for Indigenous people, and Noel Brown's new art is good medicine."

"It has been a wonderful experience establishing a relationship with the Snuneymuxw First Nation and working in partnership on a shared vision", said Marci Ekland, Director of Strategic Initiatives. "As part of the recommendations from In Plain Sight, our hospital's Cultural Safety Collaborative wanted to do something to help address racism and to work to make our site more culturally safe."
The Snuneymuxw Nation recommended Noel, whose art can be found in galleries and private collections around the world. His carvings are on public display at the Nanaimo Museum, BC Ferries Departure Bay terminal, cruise ship terminal, and the new downtown fire station. 
A carpenter by trade, Noel quit his job in 1995 to work as a full time artist. "I went from making lots of money working as an in-demand carpenter to making no money, which was really hard for my young family," said Noel. "I learned from my uncles and began carving plaques and masks, which I still enjoy doing, but I also like working with local community partners to come up with original designs."
The design Noel created is a Big House signifying a house of healing, with two eagles carrying prayers up to the creator, a bear representing strength and courage, and the Canadian medical insignia at the centre.
Local Nanaimo businesses VICE Design and Black Cat Studios worked with Noel to turn his artwork into an aluminum piece of art that lights up at night.
"After I came up with the design, I had to draw it backwards so that it could be stamped into aluminum and made into a 3-dimensional design," shared Noel. "I am really happy with the final result, thanks to the talented designers and fabricators at VICE Design." 
Installing the artwork at the front entrance was no small feat for NRGH facilities staff, who worked with VICE Design to adjust and adapt the artwork so that it could be permanently installed.
"This piece of art helps to strengthen our facilities with cultural representation," said Elder Jerry Brown, Noel's father. "We are taking steps forward in a united way, and I give thanks to the people who work here – the physicians, nurses, clinicians and administrators - for your dedication to this place of healing."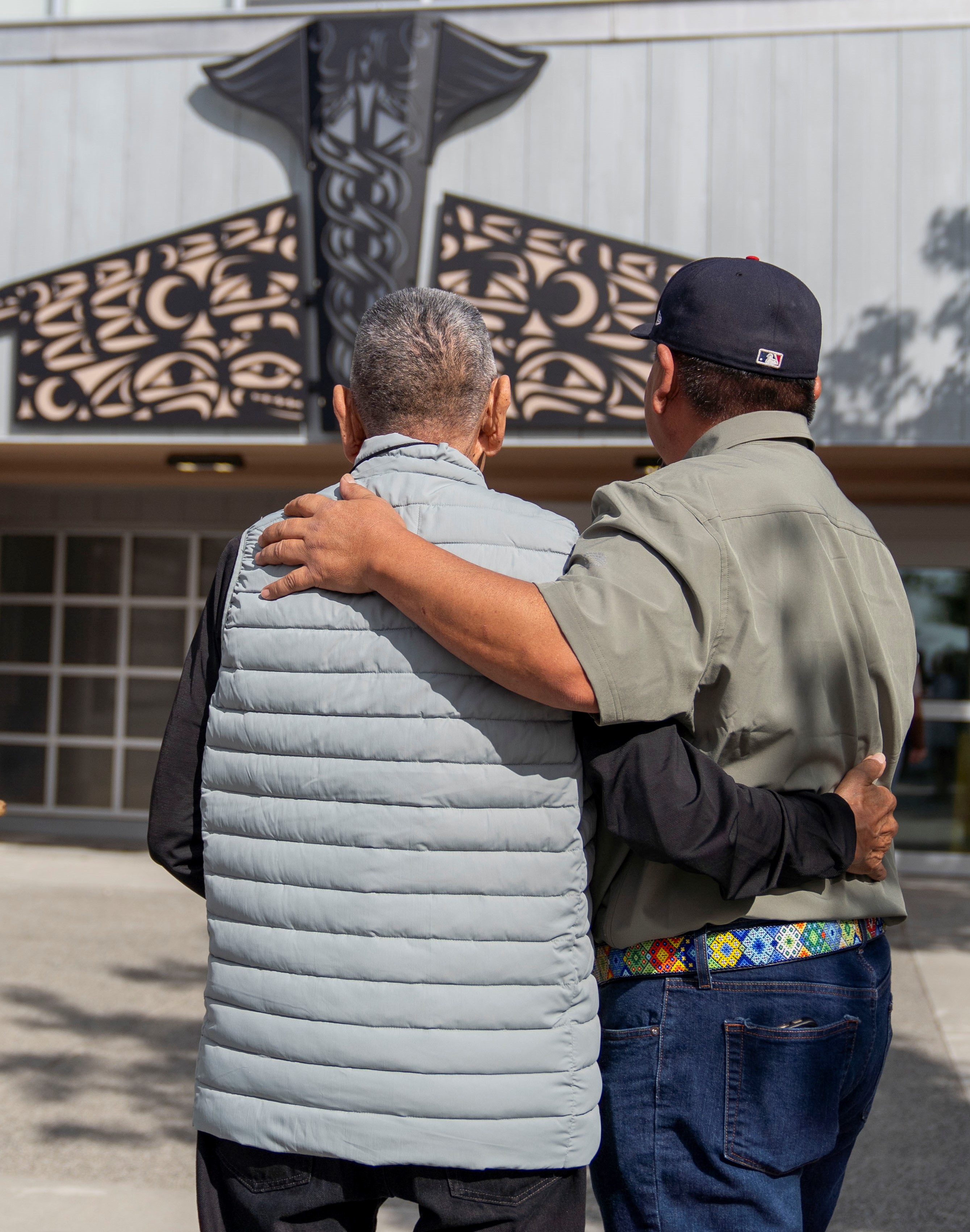 Image of Noel and his father, Elder Gary Brown, watch the unveiling of Noel's commissioned art for NRGH