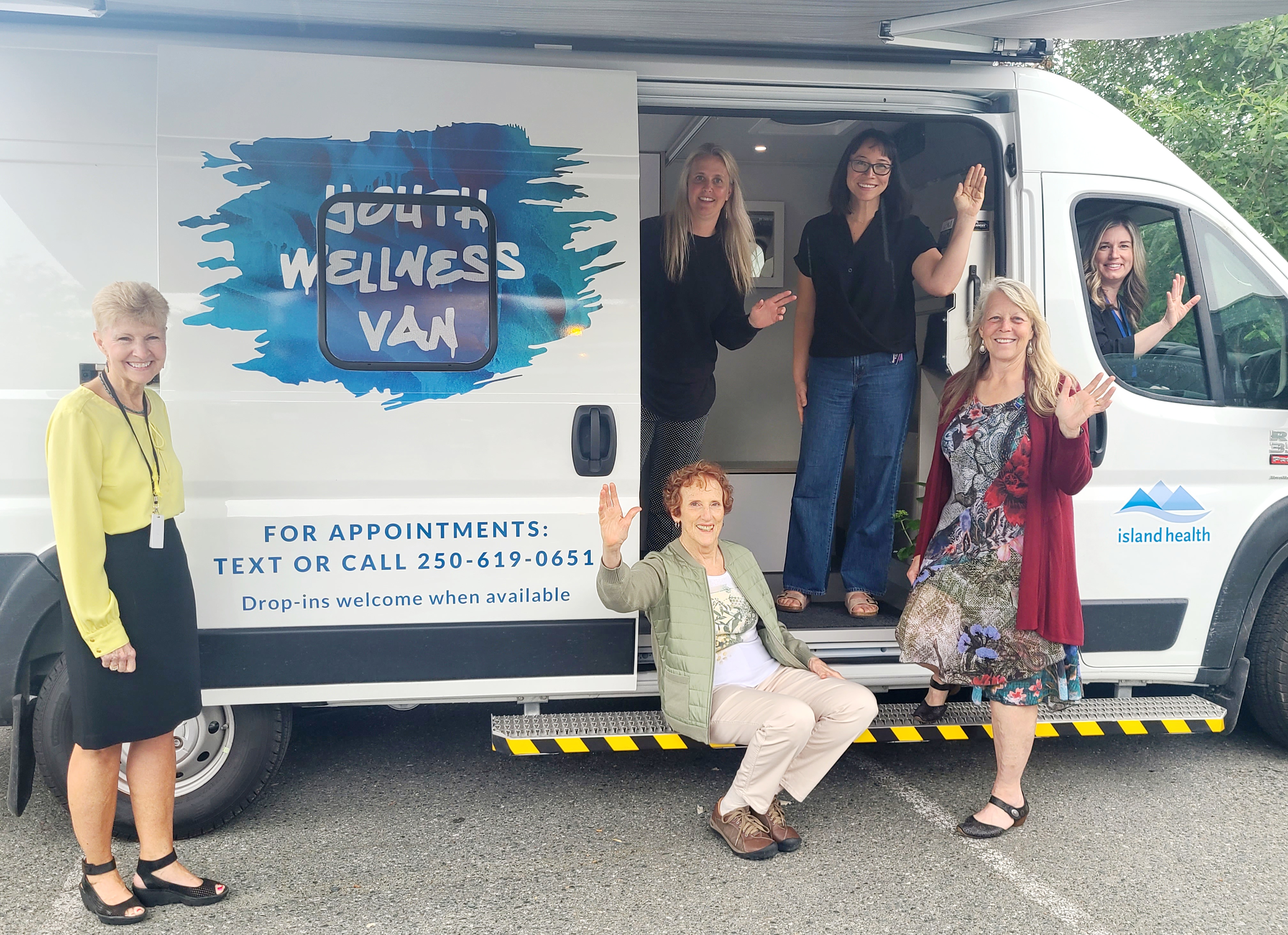 Left to right: Janice Perrino, Esther Pace, Erin Kenning, Marcia Fukunaga, Wilma Arruda, and Tracy Hogeweide.
Thanks to generous financial support from the Nanaimo & District Hospital Foundation, a mobile service for youth wellness will soon be hitting the road.
The new Youth Wellness Van will offer sexual health information, birth control, pregnancy testing, STI testing, immunizations, harm reduction, mental health and substance use supports, as well as referrals to other health providers for youth up to age 25.
"It's critical that when youth need resources to support them, we listen," said Sheila Malcolmson, Minister of Mental Health and Addictions.
"We are bringing together health services in one place and making them mobile through the Youth Wellness Van in Nanaimo. This is a critical step to reducing barriers to mental health and substance use services and helping young people thrive in their communities."
"The Youth Wellness Van is an investment in health care in Nanaimo and an investment in our youth," said Doug Routley, MLA for Nanaimo-North Cowichan. "It is important that young people have access to the health services they need and want, and this van will do just that."
Starting this fall, the Youth Wellness Van will be staffed by Public Health Nurses and have scheduled visits at Nanaimo high schools and other community locations. 
"The Nanaimo & District Hospital Foundation is pleased to purchase the new Youth Wellness Van," said Janice Perrino, recently retired Chief Executive Officer, Nanaimo & District Hospital Foundation.
"It's not always possible for youth to go and get the health care they need, so reaching out to them with this van is an investment in their long term health. We are proud to support initiatives like this in our community."  
The new mobile service for the Nanaimo/Ladysmith area is focused on reducing barriers for youth to access care.
"Our public health teams met with high school students to determine what their health concerns were and how to provide these services in a confidential way," said Esther Pace, public health manager for Nanaimo. "The result is a mobile service that will meet youth where they are in the community to provide greater access to care."
"Nanaimo-Ladysmith Public Schools is very proud of our partnership with Island Health to ensure our students have access to the health services they need," said Don Balcombe, School District 68 Assistant Superintendent.
"We are delighted that the public health team has been able to secure a wellness van to bring health services directly to our secondary schools. We also appreciate involving our students in determining what services should be provided through the van, as well as including student voices in its advertising and promotion. More students will now have easy access to health services." 
 
About Island Health:

Island Health provides health care and support services to more than 860,000 people on Vancouver Island, the islands in the Salish Sea and the Johnstone Strait, and mainland communities north of Powell River.

With more than 27,000 staff and over 2,900 physician partners, 1,000 volunteers, and the dedicated support of foundations and auxiliaries, Island Health delivers a broad range of health services, including: public health services, primary health care, home and community care, mental health and addictions services, acute care in hospitals, and much more across a huge, geographically diverse region.
About the Nanaimo & District Hospital Foundation:
The Nanaimo & District Hospital Foundation provides funding for medical equipment, modern facility upgrades, patient comfort items, and staff education at the Nanaimo Regional General Hospital, the Oceanside Health Centre, Dufferin Place, Eagle Park and Trillium Lodge.
We need your support today to continue driving innovation and to help transform healthcare for years to come. We are proud to support our healthcare professionals and regional hospital with the tools and resources required to continually deliver exceptional patient care.
    
Central/North Island media inquiries:
Dominic Abassi
250-755-7966
Dominic.Abassi@islandhealth.ca    
Cowichan/South Island media inquiries:
Andrew Leyne
250-370-8908
Andrew.Leyne@islandhealth.ca