Island Health has partnered with Camosun College to open an outpatient ultrasound clinic embedded within Camosun's School of Health and Human Services. Campus Ultrasound is the first clinic of its kind in the country to support on-site learning.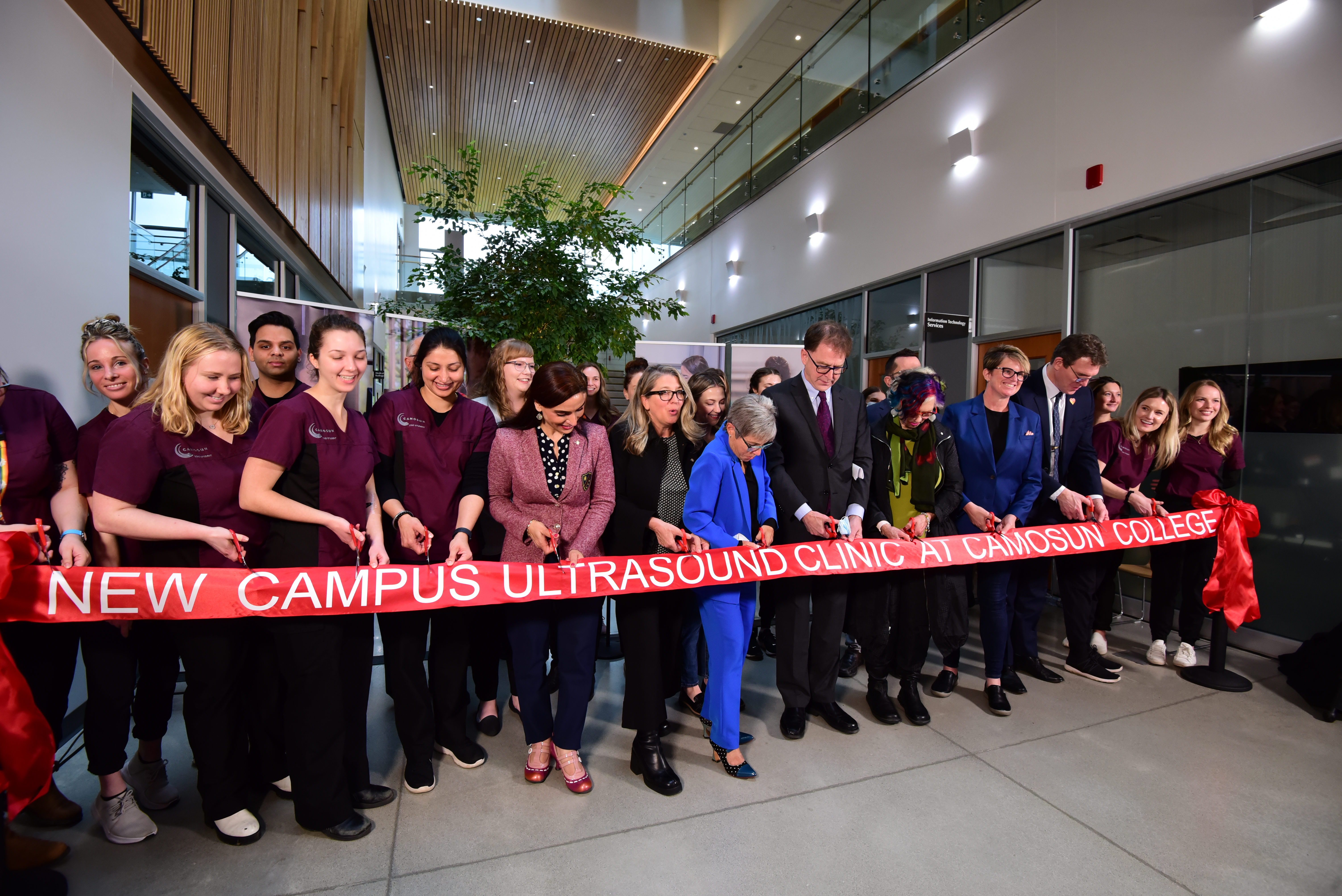 "The opening of the Camosun Ultrasound clinic is a significant step towards ensuring that all members of our community have access to the essential health care they need," said Adrian Dix, Minister of Health. "This state-of-the-art facility will provide high-quality diagnostic services and help to alleviate pressure on existing clinics, making it easier for patients to receive the care they need in a timely manner." 
"This investment is an important step in getting people in B.C. trained for the many in-demand jobs in the health-care sector," said Selina Robinson, Minister of Post-Secondary Education and Future Skills. "The Province of B.C. is committed to a strong public health-care system. The new Campus Ultrasound clinic will help prepare future health-care workers to serve the needs of B.C.'s diverse and growing population. This investment aligns with StrongerBC's Future Ready Plan, working to accelerate talent development and skills training across the province to address workforce challenges across all sectors of the economy, including the care economy." 
Campus Ultrasound clinic has two general ultrasound rooms and two echocardiogram rooms, allowing four students to be trained in-house simultaneously with access to real patients, advanced simulation and experienced Island Health sonographers and radiologists — all in one space. 
"We are delighted to be delivering outpatient ultrasound services at our new clinic located at Camosun's Interurban campus," says Leah Hollins, Island Health Board chair. "Like all regions, Island Health is facing increased demand for medical imaging. This new service will not only help to train future sonographers, but it will also expand diagnostic ultrasound services for our patients." 
"Camosun continues to deliver programs that are responsive, relevant and what local communities and employers need," says Lane Trotter, President of Camosun College. "Working in partnership with Island Health, the new ultrasound clinic will provide sonography students with more clinical education opportunities in a real clinic setting, while improving patient access to health care services."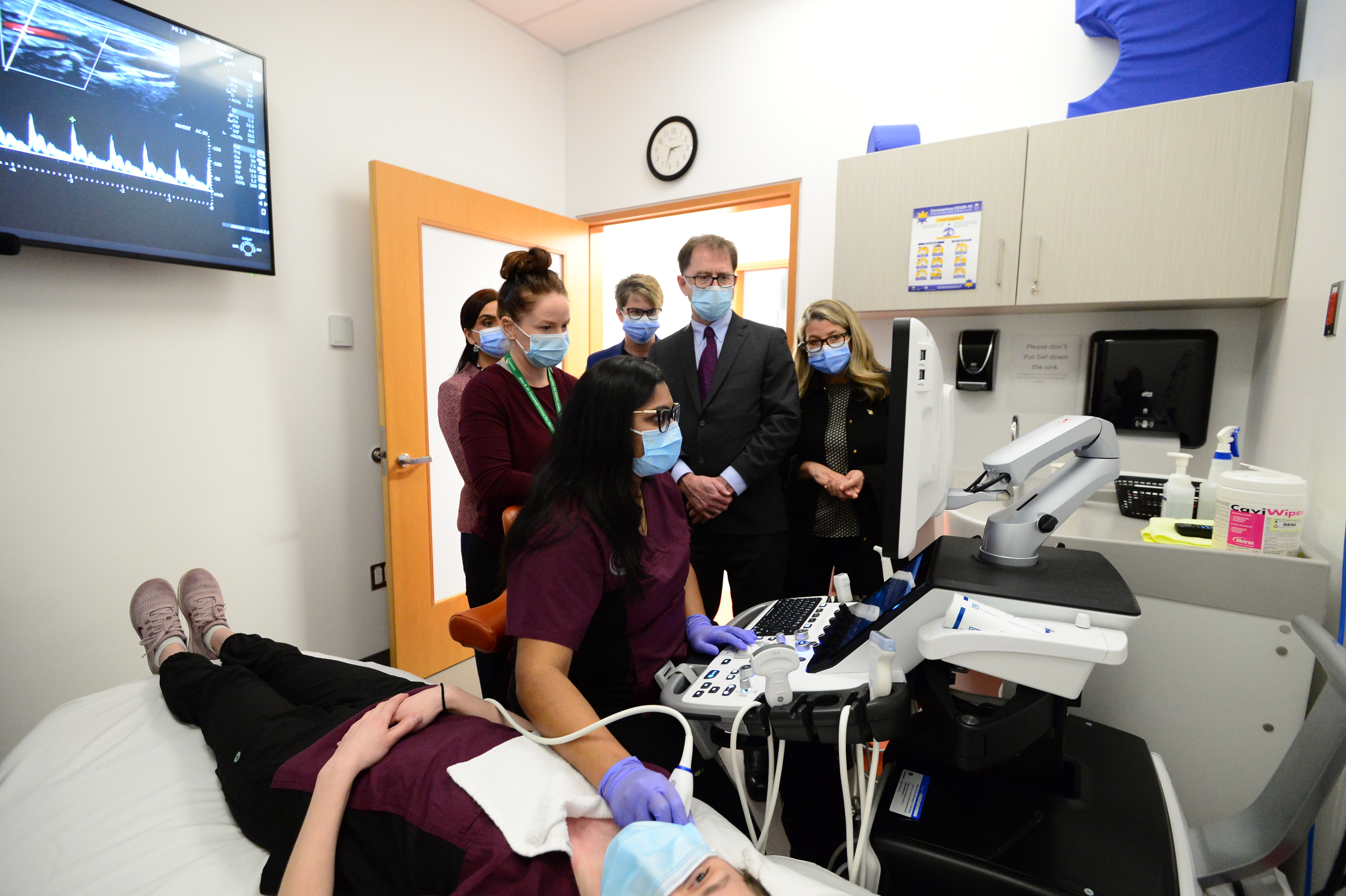 Students training at the clinic will administer ultrasound scans used to diagnose, treat and monitor a variety of medical conditions within two specialty disciplines: general and cardiac. Approximately 32 Camosun College Diagnostic Medical Sonography students will receive hands-on training at Campus Ultrasound each year.
"With this ultrasound clinic, Camosun College is providing students with more real-world experience and local patients with more access to ultrasound services, benefiting the community for many years to come," said Lana Popham, MLA for Saanich South. 
"The learning opportunities provided through the Diagnostic Medical Sonography program at Camosun have been invaluable. From incredibly supportive and knowledgeable instructors to the modified pair scanning technique, which integrates the student without impacting patient care, I believe this program is providing one of the most comprehensive educations in sonography available," says Pippa Cilliers, first year Diagnostic Medical Sonography student. "To be able to receive collaborative and hands-on learning directly on campus in the new ultrasound clinic will benefit students and patients alike. I am truly excited for this unique opportunity to gain real-world experience and formal training all in one location."
The clinic will operate collaboratively between Island Health's Medical Imaging and Heart Health departments. Island Health expects to expand diagnostic ultrasound services by approximately 5,000 general ultrasound exams and 3,000 echocardiogram exams annually at the new clinic, which will be staffed by cardiac sonographers, general sonographers, and clerical support.
Campus Ultrasound aligns with StrongerBC's Future Ready plan. Future Ready is making education and training more accessible, affordable and relevant to help businesses grow and prepare British Columbians for the jobs of tomorrow.
Campus Ultrasound will begin receiving patients on February 6, 2023.