Scott Grieve has worked on construction sites for 20 years, but the 43-year-old Victoria resident never could have predicted becoming severely injured after falling off a ladder at his home. In May, Grieve fell from ten feet onto concrete, breaking five ribs and suffering a serious head injury. He was taken by ambulance to Victoria General Hospital (VGH) where he was cared for by a dedicated team of trauma experts, part of a new, formalized trauma service at VGH introduced by Island Health. An additional trauma service at Nanaimo Regional General Hospital is expected to come on line January 1.
"When I later saw the scans of my rebuilt ribs, I just about fell over," says Grieve. "I work with metal for a living and can understand what it took to repair my broken bones. The care I received from the trauma team really was top notch."
The dedicated trauma team is helmed by Dr. Dennis Kim, a Canadian surgeon who worked at one of the busiest trauma centres on the west coast of the United States for a decade. 
"My family and I moved to Victoria last year, and, since then, I have been collaborating with our amazing staff to develop a regional trauma service on Vancouver Island to care for patients like Mr. Grieve," says Dr. Kim, Island Health Medical Director, Trauma Services. "While VGH and NRGH have always offered excellent trauma care, until recently, there wasn't a formal, in-patient, most-responsible-physician service for people with severe injuries."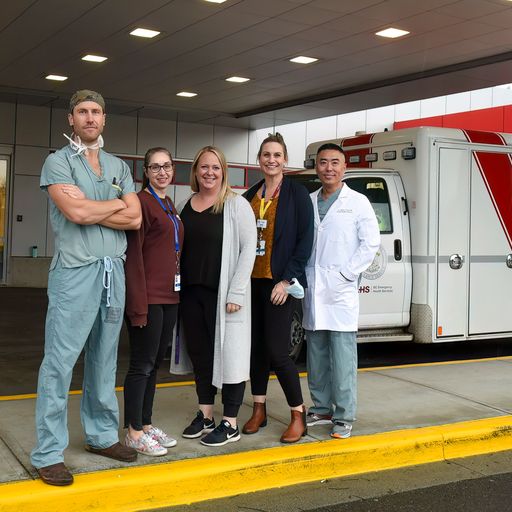 Members of the Victoria General Hospital Trauma Service
Now, instead of having their injuries assessed in the emergency department, injured patients are received by an experienced trauma team of physicians and nurses available around the clock, 365 days per year, who have been alerted in advance by BC Emergency Health Services personnel. 
"When the trauma team receives the call from BCEHS, everyone activates, ready to spring into action, similar to when someone has a major stroke or heart attack," says Dr. Kim. "Time is of the essence for trauma patients, and we are so excited that Island Health leadership and the BC Ministry of Health have endorsed this important new service."
In April, Dr. Kim and his team also introduced a trauma recovery clinic at VGH where patients who have been discharged from hospital can receive follow-up care. In the past, these injured patients were managed by hospitalists or family doctors, many of whom had no formal training in trauma care. Dr. Kim refers to Jolene Milkowski, Clinical Nurse Leader on the VGH trauma unit, as the lynchpin of the trauma recovery clinic.
"We were noticing a high rate of hospital readmission because trauma patients without primary care providers were visiting the emergency department when they had difficulty managing pain or were experiencing new symptoms," says Milkowski. "Now that we have the trauma recovery clinic every two weeks, I book them in with Dr. Kim or another physician on the trauma team where they can raise concerns, ask questions and receive referrals for home support, brain injury follow-up and other services."
"The vast majority of patients admitted to the trauma service have multiple and complex injuries that require them to stay in hospital for 14 days on average. However, since we launched the trauma service at VGH, we have seen not only a decrease in overall mortality but also a decrease in the length of stay in hospital," says Dr. Kim. 
"Further, we have witnessed a drastic decrease in seven day and 30 day readmission rates – much of which can be attributed to standardization of care processes and the trauma recovery clinic where we can address patient and family care needs that may arise after patients return home from the hospital."
Milkowski also tries to foster lasting relationships with patients, encouraging them to reach out by phone and email with questions, concerns and updates.
"Developing those relationships is rewarding," she says. "Some patients have been with us for months on the trauma unit and now they email me with their progress. I can pass on those success stories to the rest of the team, which creates a sense of accomplishment because we helped to get this patient back out into the world." 
Trauma patient Scott Grieve is grateful for the care he has received over the past several months.
"This service helps trauma patients because there is someone there to hold your hand and shepherd you through the recovery process," he says. "It's a lot to go through, particularly for people who don't have a strong support system at home."
Work to expand the trauma service includes developing a second trauma recovery clinic at NRGH in the future and collaborating with Island Health's restorative health team of occupational therapists, physiotherapists, rehabilitation assistants, and speech language pathologists, as well as with community partners such as ICBC to ease the transition from hospital to home.
"As our program continues to develop, we will expand our injury prevention efforts and build upon the fantastic work of our healthcare partners when it comes to initiatives like fall and injury prevention and avoiding distracted or impaired driving," says Dr. Kim. "The support of our community is greatly appreciated."