VICTORIA – Seniors living in Oak Bay Lodge and Mt. Tolmie care home in Victoria are preparing to move into a new, modern long-term care home in Quadra Village. The move to The Summit will take place in July.
"The Summit care home will offer a campus of care that is flexible and responsive for seniors living with complex health issues and dementia," said Health Minister Adrian Dix. "Our goal is to ensure that residents and health-care workers are protected to the maximum extent possible and I am confident that the right precautions will be in place to move safely at this time."
Through a unique partnership, Island Health and the Capital Regional Hospital District have developed The Summit, an $86 million, 320-bed long-term care home for seniors at 955 Hillside Avenue in Victoria. The Summit will open for residents on July 10, 2020, and will replace Oak Bay Lodge and Mt. Tolmie care home. 
To support residents and their families, the new facility features 320 private bedrooms with ensuite bathrooms, bright common/visiting spaces, walking paths and several outdoor areas. Each floor will see groupings of residents into "houses" (clusters of 16-24 residents) to encourage a sense of community and social engagement. The first floor will offer a hair salon and adult day program, as well as a dialysis room to eliminate the need to travel to hospital. 
"This is great news for seniors in Victoria," said Rob Fleming, MLA for Victoria-Swan Lake. "The CRHD and Island Health have created a wonderful facility for seniors in care, and we look forward to welcoming residents to this dynamic community."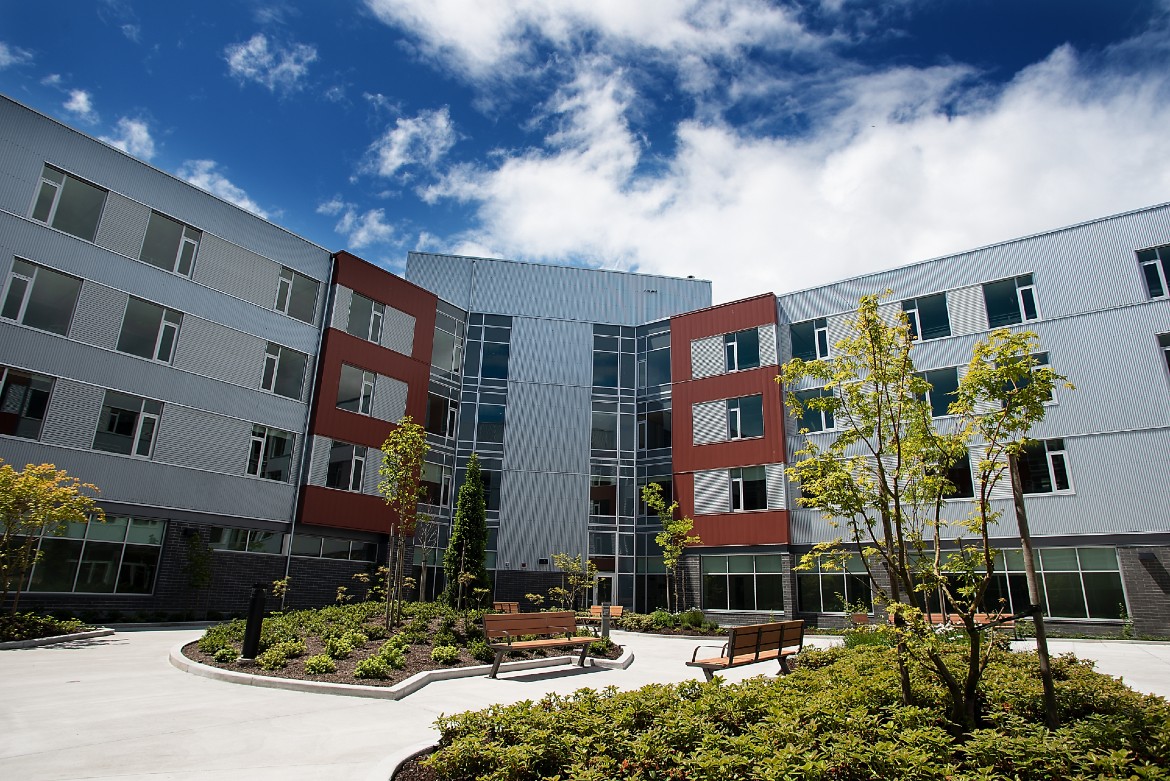 Construction began in 2016 and completed earlier this year. Island Health was planning to move residents into the facility in April, however plans were halted to facilitate the building's use as a possible field hospital during the COVID-19 pandemic. With the oversight of Island Health's Chief Medical Health Officer, new plans are in place to safely move residents in July.
"We are so pleased to be moving these residents into a contemporary new home, close to family, friends and community supports," said Leah Hollins, Island Health Board Chair. "This facility will also provide a superior work environment for our care teams, which will ultimately enrich the care experience."
The Capital Regional Hospital District constructed and owns the building and Island Health is leasing it for 25 years. 
"This facility will enable residents to live their best quality of life," said Denise Blackwell, Chair of the Capital Regional Hospital District. "It's a long-term care solution that really is state-of-the-art and we are proud of what we've created to support seniors care in Victoria."
The Greater Victoria Eldercare Foundation has also committed to raising more than $500,000 for therapy equipment and adaptive tools, visiting area/patio furnishings and ongoing therapy program support, as well as gardens for residents and ongoing funding for the Adult Day Program.
"We are excited to support welcoming the residents and day program clients to the Summit," said Executive Director Lori McLeod. "Eldercare Foundation is looking forward to supporting Island Health staff in providing the comforts of home and special programs that enhance care and quality of life."
"This new long-term care home is one of the ways we are investing in our growing seniors' population," said Ronna-Rae Leonard, parliamentary secretary for seniors and MLA for Courtenay-Comox. "We are committed to working together with community partners, municipalities and health authorities to make life better for seniors throughout B.C."
The development of The Summit supports the Province's $240 million, three-year plan to increase the direct care seniors receive in long-term care homes in communities and across B.C. by 2021. 
---
About Island Health:
Island Health provides health care and support services to more than 800,000 people on Vancouver Island, the islands in the Salish Sea and the Johnstone Strait, and mainland communities north of Powell River. With more than 22,000 staff and over 2,000 physician partners, 6,000 volunteers, and the dedicated support of foundations and auxiliaries, Island Health delivers a broad range of health services, including: public health services, primary health care, home and community care, mental health and addictions services, acute care in hospitals, and much more across a huge, geographically diverse region.
Capital Regional Hospital District
A corporation of the CRD, the Capital Regional Hospital District partners with Island Health and community stakeholder agencies to develop and improve healthcare facilities in the region, including replacing buildings that have reached the end of their economic and functional life. Through capital and other community investments, the CRHD supports a healthy, vibrant and livable region for all citizens. 
    
Island Health media inquiries:
Cheryl Bloxham
250-370-8878
Cheryl.Bloxham@islandhealth.ca