This week's Pride post comes to us from Island Health clinical educator, Nicole Tremblay.
---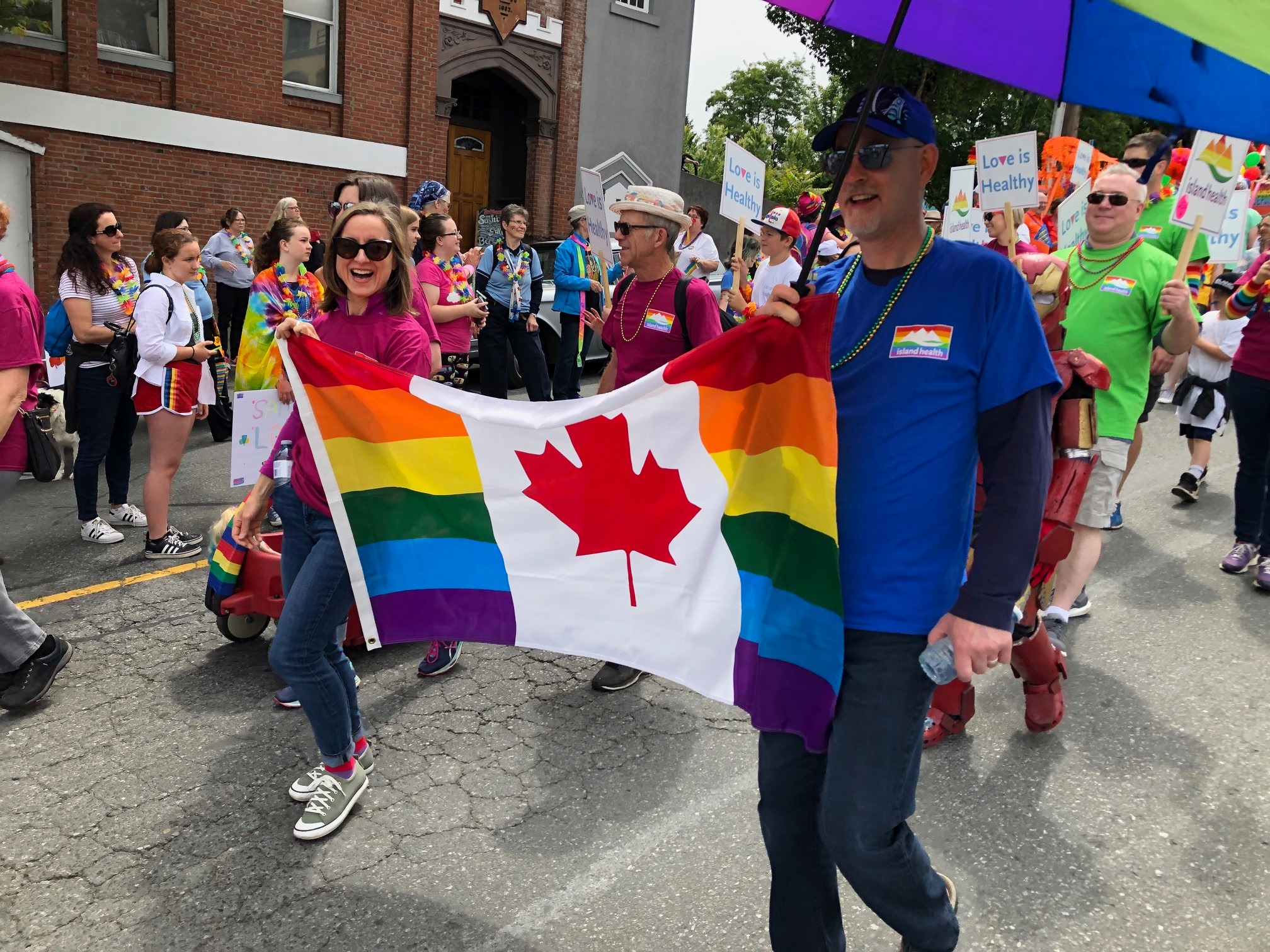 As is the case with many plans for 2020, Pride festivities will be significantly modified as we continue to physically distance for safety. The annual Pride Parade will not proceed this year; however, the importance of celebration and visibility and advocacy endure. As we move through this global pandemic together, personal circumstances can greatly affect our individual experiences. Vulnerabilities and inequities are more evident and more piercing than usual because the consequences for people who experience discrimination and/or marginalization can be severe, as we are seeing play out in the US.
People in LGBTQ2+ communities may be more affected by the COVID-19 pandemic than the general population in a number of ways including:
Increased social isolation, particularly for LGBTQ2+ seniors who are less likely to have children and extended familial care networks;
Higher rates of depression and anxiety, substance use and smoking in LGBTQ2+ communities; and
Reluctance to seek health care because of fears related to poor treatment in health-care systems.
Knowing some of the history, challenges and protective factors can go a long way in enhancing your ability to provide compassionate, effective care to people from LGBTQ2+ communities. Learning about the history of Pride is a great place to start!
History of Pride
Many people cite the Stonewall Riots as the spark that lit the flame of the LGBTQ2+ rights movement. The Stonewall Inn in New York City was a bar frequented primarily by gay men and drag queens. The police routinely raided and arrested gay people in known gay establishments at that time for "homosexuality" or "sodomy," as it was legally termed. Women could also be arrested if they were found to be wearing less than three pieces of "feminine clothing". 
On June 28, 1969, patrons at the Stonewall Inn fought back during a police raid. This initial riot led to protests, which then led to the inaugural Pride Parade in June 1970. Although there are lesser known altercations between police and people in LGBTQ2+ communities that occurred throughout the 1970's in Canada, it is the bathhouse raids that occurred in Toronto in 1981 that is often called "Canada's Stonewall." Tension between police and LGBTQ2+ communities had been growing in this community for years, culminating in what was described as "hateful behaviour" and verbal abuse by police. Massive protests followed, leading to violent clashes between police and protestors.
The need to gather, protest, celebrate and be visible and proud in a world that often stigmatizes and marginalizes LGBTQ2+ communities continues. Many gains, both social and legal, have been made in the past 50 years, however, ongoing examples of homophobia and transphobia are not hard to find. As people in marginalized communities push back, demanding to be heard and refusing to accept being treated as 'less than', backlash inevitably occurs. Members of LGBTQ2+ communities continue to be targets of violence, discrimination and harassment. Stigma and discrimination towards people in LGBTQ2+ communities contributes to increased risk of mental health and substance use issues, health disparities, self-harm and suicide.
Recent information, including Statistics Canada hate crimes tracking data and the National Inquiry on Missing and Murdered Indigenous Women and Girls, highlight the continued need to address safety and equity issues for people in LGBTQ2+ communities.
Moving Forward
The power of Pride to create safety, inclusion and community is strong. To see yourself and your life reflected in the crowds and celebrants is wonderful. To feel the support of allies and organizations makes LGBTQ2+ people remember that there is understanding, there is respect, there is acceptance and ultimately Pride celebrations feed that belief that love will win.
---
For support and information explore local resources in your community or visit these links: