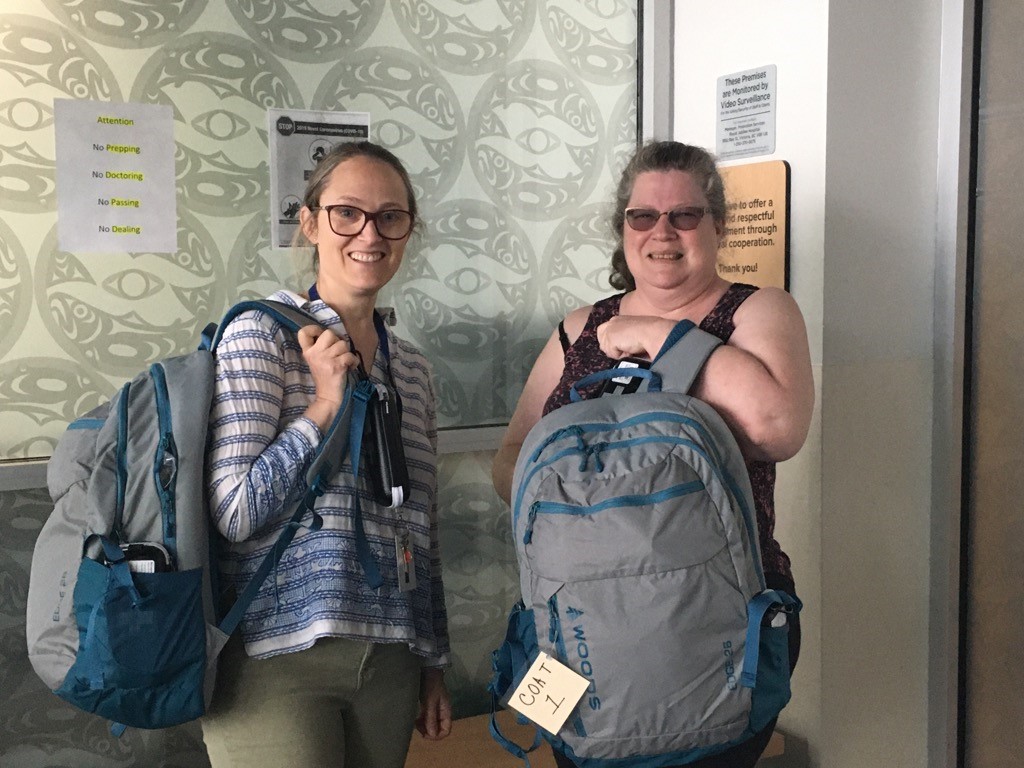 "The pandemic has had a tremendous impact on our community, especially when we're talking about a double public health emergency – the contaminated drug supply combined with the COVID-19 pandemic," said Tracey Thompson, Regional Harm Reduction Coordinator, Island Health. "And the way we support people in each public health emergency is opposite - one requires isolation, the other encourages connection. It really puts people at risk of dying from an overdose."
Thompson is part of a collective effort in Victoria that brings together Island Health, BC Housing, the province, local government and community partners to support people experiencing homelessness and prevent transmission of COVID-19. Island Health rapidly mobilized a health response to screen people, as well as provide needed medications and health care services, including harm reduction and mental health and substance use services. These health services support our partners, including BC Housing, who provide sheltering and associated social supports. Contracted community service providers and peers, such as AVI Health and Community Services, SOLID and Cool Aid, are part of the service provision, and are at the forefront of this collaborative response. Similar planning and response is underway across many communities in Island Health to support our vulnerably housed and homeless populations. 
"We know people aren't impacted by this equally," said Thompson, "There are folks that are more impacted, because of health status, income, education, housing and other factors."
Thompson is part of the COVID-19 Outreach Assessment Team working in downtown Victoria. She is coordinating the assessment service with four nurses from Island Health's public health and mental health and substance use teams. The team receives calls from community service providers, outreach teams and peers that identify individuals who are feeling unwell. The nurses work in teams of two and travel by van or on foot in response to calls. When they are onsite, the nurses complete a screening survey with individuals, take ear temperatures, measure oxygen levels, provide basic wound care and over the counter medication as needed. The nurses are trained on overdose response and distribute naloxone and harm reduction supplies.  
Through the collective response, people who have respiratory symptoms will be supported to access testing and improved sheltering for the self-isolation period. People are also able to access treatment options for the duration of the COVID-19 pandemic for opioid and alcohol dependency, as well as continued access to opioid agonist therapy, to support self-isolation and reduce the risk of harm from withdrawal.
"I am so proud of our Island Health teams for being able to move so quickly on these initiatives and adapting to changes in the moment. And I'm grateful for the commitment of our partners to making things happen," said Thompson. "I also would like to acknowledge and thank the peers who were leading the work from the outset by reaching out to people and supporting them to shelter in place with supplies, food, and checking in to keep them safe."