The idea of a family bike ride sounds fun – whizzing down a street or bike path listening to the joyful giggles of your kids as they breathe in the fresh air. However, it is also a daunting prospect for many parents with toddlers and school-aged children. Thanks to an Island Health Community Wellness Grant, non-profit organization, Capital Bike, has been teaching Victoria families how to safely enjoy family bike rides.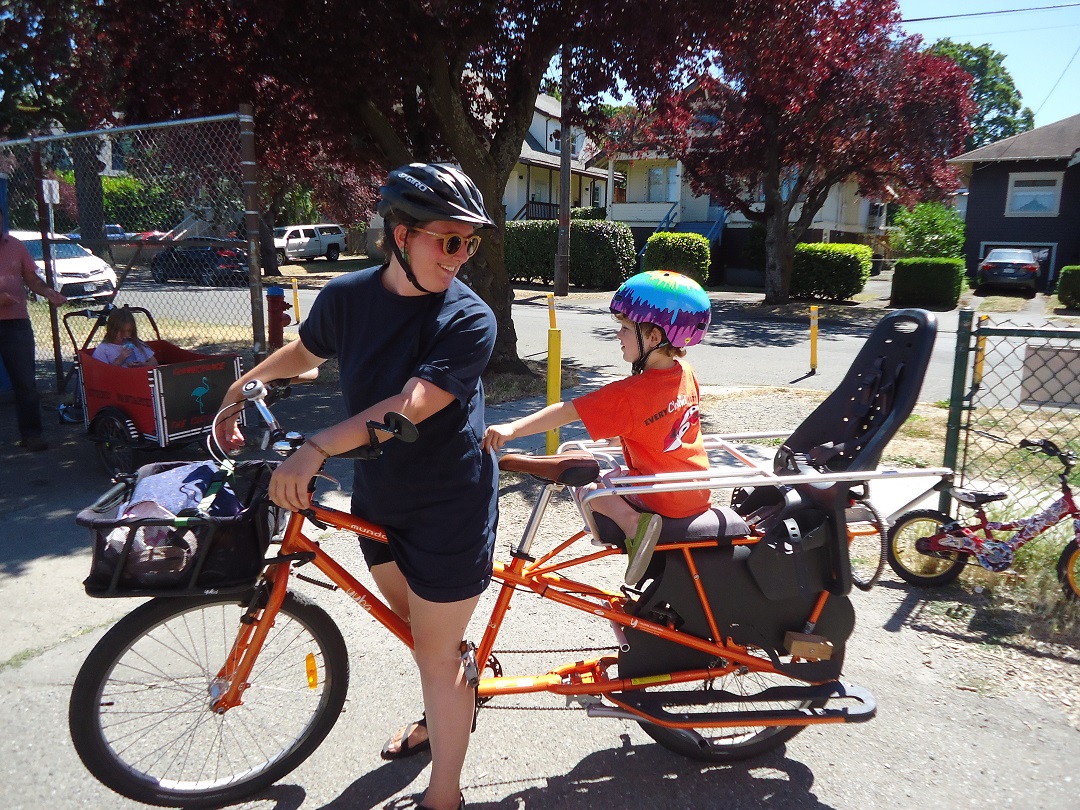 "Island Health Community Wellness Grants help foster local partnerships and grassroots initiatives that promote health and wellness across the region Island Health serves," says Leah Hollins, Island Health Board Chair. "We've seen so many incredibly innovative programs made possible by the grants, including this wonderful initiative launched by Capital Bike."
"The $6000 grant we received from Island Health allowed us to develop a curriculum and materials for our All Aboard Family Cycling Program," says James Coates, Bike Education Coordinator, Capital Bike. "The program is aimed at teaching parents and children various aspects of family cycling and helping the entire family to feel safer when they ride their bikes together."
The All Aboard Family Cycling Program contains several modules. The Cycling While Pregnant module helps pregnant women to feel more comfortable and confident, while the skills portion teaches children and adults bike handling skills, shoulder checking, signaling, braking and other important safety measures for riding on roads and trails. The course also offers a 'bike petting zoo' where families can check out different styles of family bicycles and learn more about equipment from other experienced cyclists. 
"A number of experienced family cyclists brought their bikes – cargo bikes with space for kids and groceries, bikes with trailers, bikes with child seats attached – and were available to answer questions, talk about equipment, and explain best practices, especially as it relates to biking with children," says Coates. 
"Following the bike petting zoo, one participating family was even inspired to purchase their very own cargo bike."
The program concludes with a group ride where families can test their newfound skills and knowledge.
"Bridget, our instructor, was so great with the kids. For our 6 year old, all the skills introduced were so helpful, while our 9 year old found value in the signal sandwich and refining turns and stops," says program participant Tina Tam. "Both boys gave ten enthusiastic fingers and thumbs up and even signed up for the kids ride at Tour de Victoria!"
"The benefit of this course is that it's a fun and interactive program that includes the entire family. We are really grateful to Island Health for making it possible," says Coates. "The biggest barrier to family bike rides is when people don't feel comfortable cycling with young children. This program teaches everyone in the family how to ride safely together."
For more information about Capital Bike and the All Aboard Family Cycling Program please visit: https://capitalbike.ca/family-cycling-program/
Island Health's Community Wellness Grant program provides the opportunity for not-for-profit organizations, local government organizations and Indigenous Nations, organizations and communities to apply for one-time funding for the development of new wellness initiatives and programs aimed at improving the health and well-being of Island residents.
For more information or to apply, please visit: https://communitygrants.islandhealth.ca/