Friday, October 14th is Allied Health Professionals Day, a day to celebrate and appreciate the significant contributions of Island Health's Allied Health workforce and showcase the impact they make to the delivery of high-quality care. 
Within Island Health, there are 3,436 Allied Health employees spanning across 37 disciplines who provide highly specialized health services and journey with our patients at every stage of life. From pharmacists and recreational therapists to social workers and psychologists, the Allied Health workforce plays a crucial role in identifying, evaluating, preventing and treating diseases, disability and disorders in the community, in hospitals and in clinics. They are patient advocates and rehabilitation experts, and they collaborate with other members of our health care team to provide the best patient outcomes.
There are many Allied Health disciplines that you may not have heard about and that illustrate the diversity of contributions being made by Island Health's Allied Health team. Here is a snapshot of three Allied Health occupations:
Kirstine Macaskill is a Neuro Electrodiagnostic Technologist at Royal Jubilee Hospital in Victoria and is also a Supervisor of nine other Technologists working across Vancouver Island.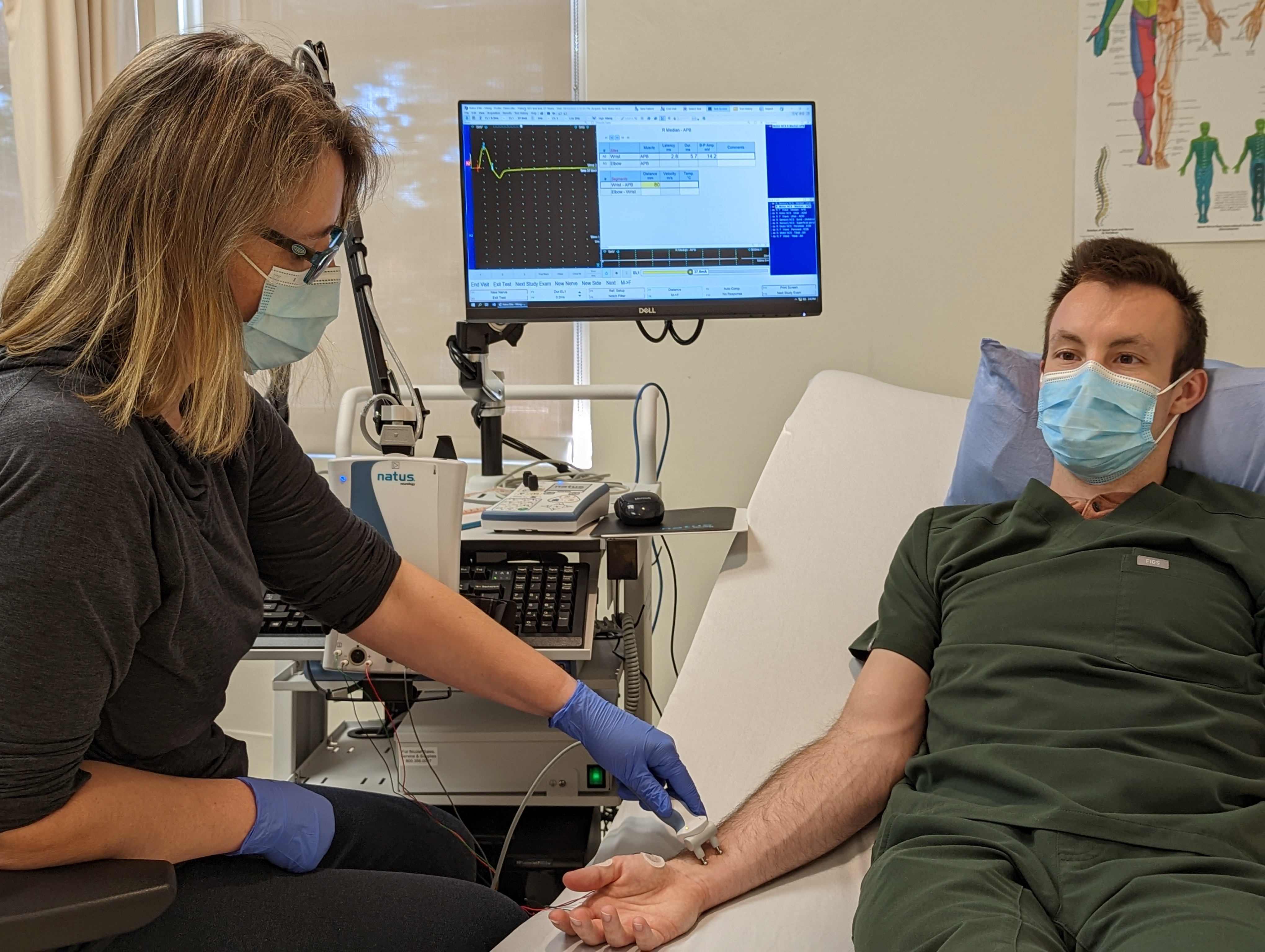 Neuro Electrodiagnostic Technologist Kirstine Macaskill performs nerve conduction studies to measure the electrical activity of nerves
Neuro Electrodiagnostic Technologists measure the electrical activity of the brain and nerves using state-of-the-art digital equipment to measure and record electrical patterns throughout the brain and nervous system, which result in valuable data that the doctor needs to diagnose and treat the patient. The data gathered from these tests can help diagnose conditions such as Multiple Sclerosis (MS), carpal tunnel syndrome, seizure disorders, strokes, Amyotrophic Lateral Sclerosis (ALS) and eye and balance disorders, among others.
"I love making patients feel comfortable and at ease while they are with me having their test. It's like solving a puzzle, and it is very rewarding when we can provide the Physician with useful diagnostic data that can assist with the ongoing patient management."
Sarah Nickolet is a Nuclear Medicine Technologist who has worked for twenty years in her role at Nanaimo Regional General Hospital.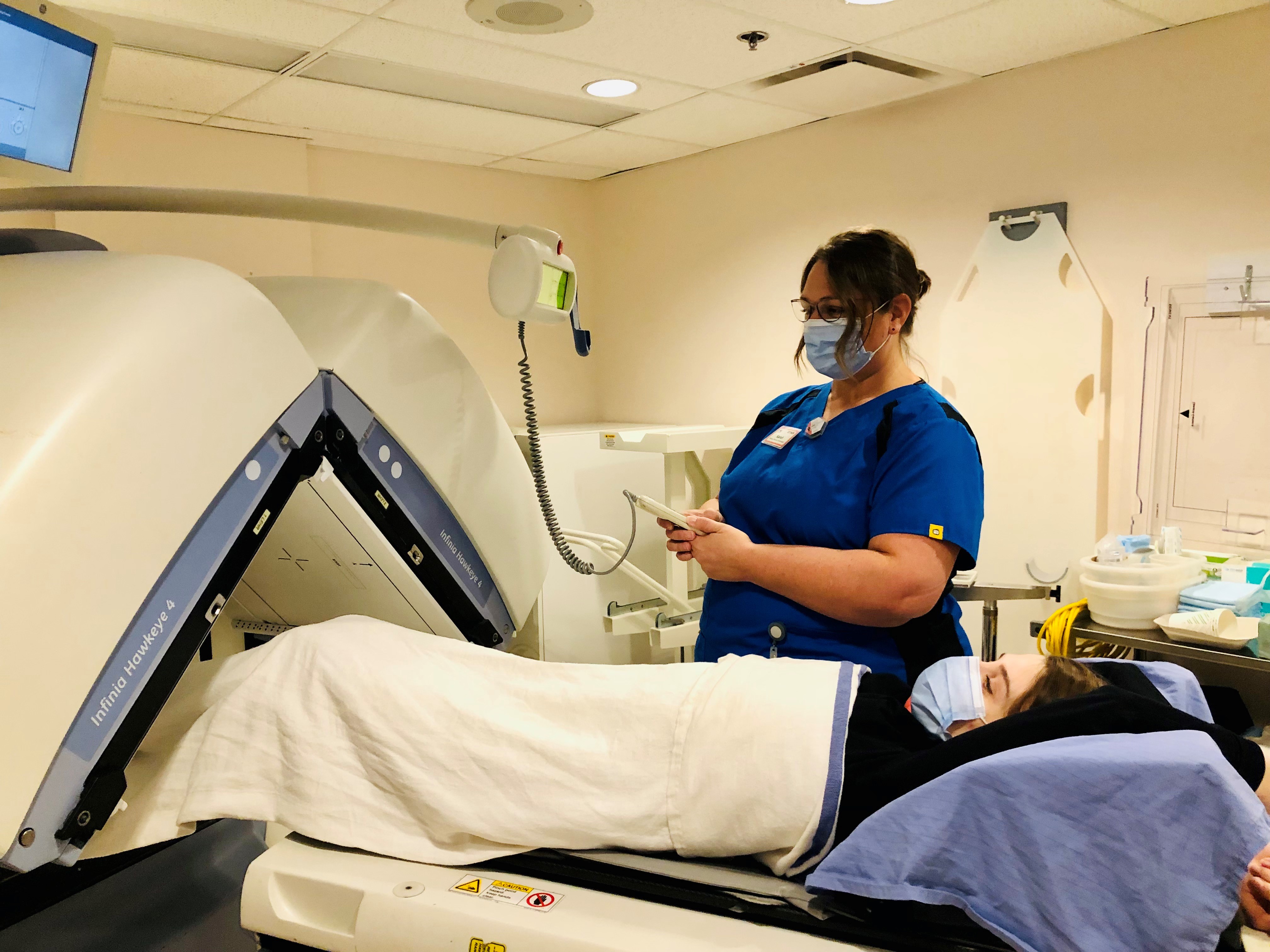 Sarah Nickolet, Nuclear Medicine Technologist, performs a Myocardial Perfusion Scan to check for Coronary Artery Disease
Nuclear Medicine Technologists use radioactive pharmaceuticals to examine organ function and structure. They prepare radioactive drugs and administer them to patients for imaging or treatment. They can image almost any part of the body – the brain, bones, heart, and kidneys – using the radioactive tracer. These tests are used for cancer screening, diagnosing heart and kidney disease, as well as for treating diseases such as hyperthyroidism, thyroid cancer, and lymphomas to name a few.
"The exams we administer can take a while, so we really get to know our patients, which I find very interesting. We learn about their lives, their careers, their families, where they have travelled and lived. It's a very diverse job using math and physics where we do planar, 3D and CT hybrid imaging, radiotracer preparation, molecular labelling, and equipment quality control all in a day!"
Nissa Hildebrand and her husband Andrew are Orthotists working at Queen Alexandra Hospital in Victoria. They met during their program at BCIT in Vancouver 12 years ago; Andrew graduated as a Prosthetist and Nissa as a Certified Orthotist. After graduation, they moved to Newfoundland where they could both find work, but they are happy to be 'home' in Victoria. Andrew is part way through his residency to becoming a Certified Orthotist.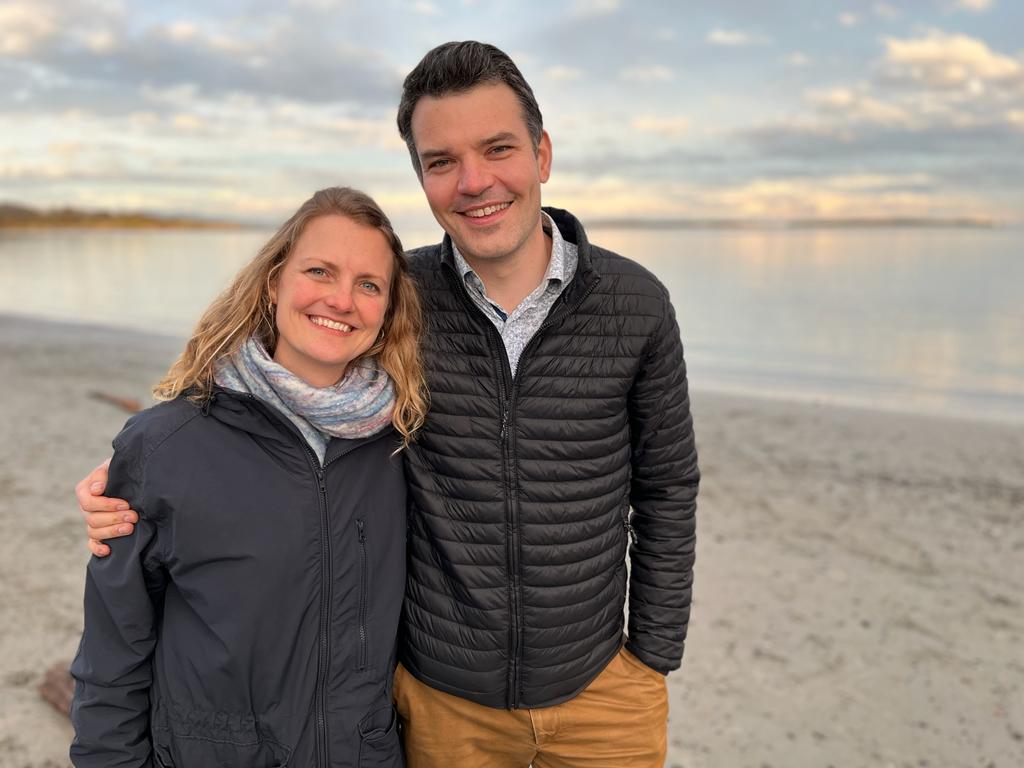 Nissa and Andrew, Island Health Orthotists
Prosthetists and Orthotists have quite different roles, but they both aim to improve peoples' ability to move freely. Prosthetists create and fit artificial replacements for patients who are missing a limb, while Orthotists design, fabricate and fit orthotics (braces and supports) for people who need added support for body parts that have been weakened by injury, disease, or disorders of the nerves, muscles or bones.  
"Designing braces for body parts is a very cool hybrid field that allows you to be crafty, working hands on with plaster, metal and leather, while also using critical thinking skills, as well as math and physics. It is so rewarding to watch someone's mobility improve by what we create for them." 
A strong health care system relies on the diversity and the expertise of team members working together to achieve the best outcomes for our patients, and Island Health is incredibly proud and thankful for the health care professionals working in allied health roles and their dedication to providing exceptional patient care. 
Thank you to all of Island Health's Allied Health Professionals for your service. We appreciate all that you do!