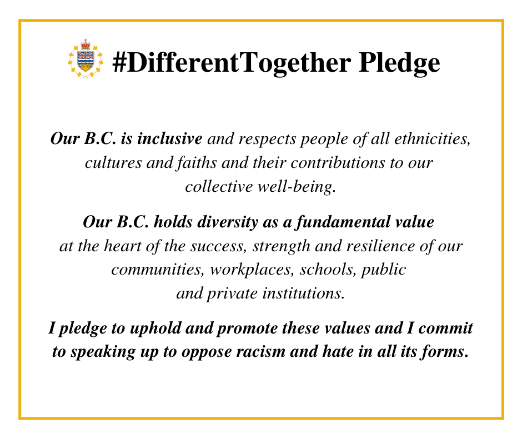 "If you are neutral in situations of injustice, you have chosen the side of the oppressor." – Desmond Tutu
Like so many people around the world, I was shocked and dismayed by the murder of George Floyd in Minneapolis last week. One might say perhaps I shouldn't be, because incidents like this happen all the time. However we cannot remain silent any longer; it is up to all of us to speak out against racism and hate in all its forms, and to take action to change.
The protests that have grown and spread following George Floyd's death have shone a light on the depth of systemic racism against black people in our society. Racism, including anti-Black racism, is not only a problem in other parts of the world. It exists here too. I also recognize the systemic racism against Indigenous people in British Columbia, including in our health and care system, as I reflect on our actions and responsibilities as a white privileged leader of the Island Health community. I have a responsibility to speak out, and we all should hold the responsibility for human rights for all people who feel discriminated against.
One action I have taken is to sign the #DifferentTogether pledge put forward by B.C.'s Lieutenant Governor. Our Board Chair, Leah Hollins has also taken the pledge, and issued a statement on behalf of Island Health's board, executive, and all members of the Island Health family. 
To hold true to our vision and values we cannot stay silent. I urge you to take the pledge as individuals as well, and to live the values of diversity, inclusivity and respect every day at work, at home, and in our communities. Give space to people of colour, Indigenous people, and other underrepresented people to ensure their voices are heard. When they speak, we must listen and act. 
Island Health stands in solidarity with people who experience racism and discrimination. 
~ Kathy MacNeil, President & CEO