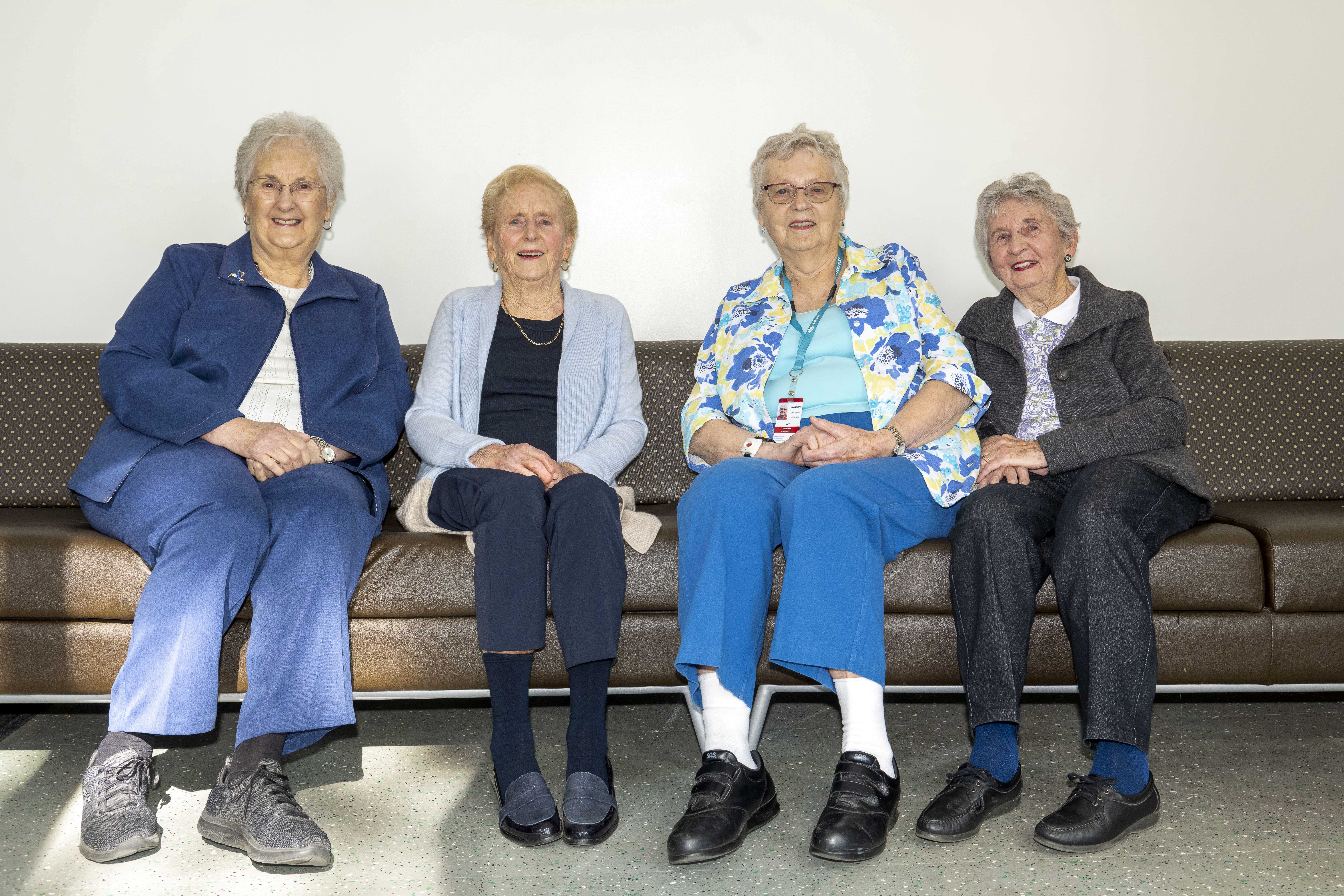 It is hard to imagine working at the same place for 40 years. It is even more difficult to imagine four people working at the same place for 40 years. However, four dedicated and enthusiastic Victoria General Hospital (VGH) Auxiliary volunteers who now range in age from 85 to 90 years old are celebrating their unwavering support of the hospital and their community since 1983.
Kay McQueen, a former nurse, and Judy Gordon, a former lab technician, were neighbours looking for something to occupy their time as their children grew older. Around the same time, Anne Elm, whose husband worked away for long periods, joined the VGH Auxiliary after volunteering for many years at two other hospitals, while Joyce Calland was brought into the fold by her neighbor and another friend. The four stay-at-home-moms, all of whom had dedicated much of their time to school and community volunteerism, soon found deep meaning and purpose through their work with the VGH Auxiliary.
"I needed something during the day so I could be at home when my son came home from school," said McQueen. "When retired people say they are bored, I wonder how can you be bored? We always have so much to do."
VGH Auxiliary volunteers raise funds for hospital equipment, furniture, and amenities for the general comfort and well-being of patients, primarily through sales at the hospital's gift shop. Most of the knitted creations in the gift shop have been crafted by Anne Elm, who also coordinates donations of wool and other knitted items.
"Joining the Auxiliary was a great way to have some adult conversations, get out of the house, and do something I really enjoy," she says. 
Much has changed over the past 40 years. As the four women reminisced, they remembered how the Auxiliary used to rent infant car seats to new parents for a small fee. During the service, spearheaded by Joyce Calland, volunteers maintained the car seat inventory and cleaned each seat that was returned after use. Other services provided by the Auxiliary included flower deliveries, a patient book and magazine library, and a popular yearly bazaar-style fundraiser where vendors rented tables to sell goods from the hospital's main concourse area. 
"I remember one table that came back year after year where the vendor sold ugly Christmas sweaters!" said McQueen. 
Through all of the changes, including those created by the COVID-19 pandemic where many Auxiliary services were temporarily suspended, one thing has remained constant – the steadfast commitment shown by Kay McQueen, Judy Gordon, Anne Elm and Joyce Calland. 
"These people have given me so much support, especially through the illness and death of my husband," said McQueen. "I've gained so much through this work – friendship, routine and structure to my day."
"It's been a great way to get to know my community," said Elm. "There is camaraderie that is formed through working together and talking. I've made many good friends over the years."
"I've worked beside so many nice people and enjoyed every minute," said Calland." It's been a good 40 years – if they'll continue to put up with me, I'll carry on!" "We've all learned one another's quirks and have had some good laughs," said Gordon. "Helping others and giving back to your community is good for your soul."
The 40 year VGH Auxiliary volunteers are encouraging men and women of all ages to consider volunteering a few hours per month. Schedules are extremely flexible and, as the group promises, "Get satisfaction, fun, and friendship as part of our happy gang."
For more information about how to get involved visit the VGH Auxiliary website.