Forensic nurses will benefit from a new simulation training program developed by Island Health. 
"Because forensic nurses are located in many communities across Vancouver Island and need to access this training when they are available, we wanted to find a virtual solution to ensure we could meet their needs," said Anna Macdonald, manager of the Centre for Inter-professional Clinical Simulation Learning. "We are currently designing an interactive simulation of a patient forensic exam that allows the forensic nurses to immerse themselves in their virtual environment while walking through the forensic exam in a gamified way."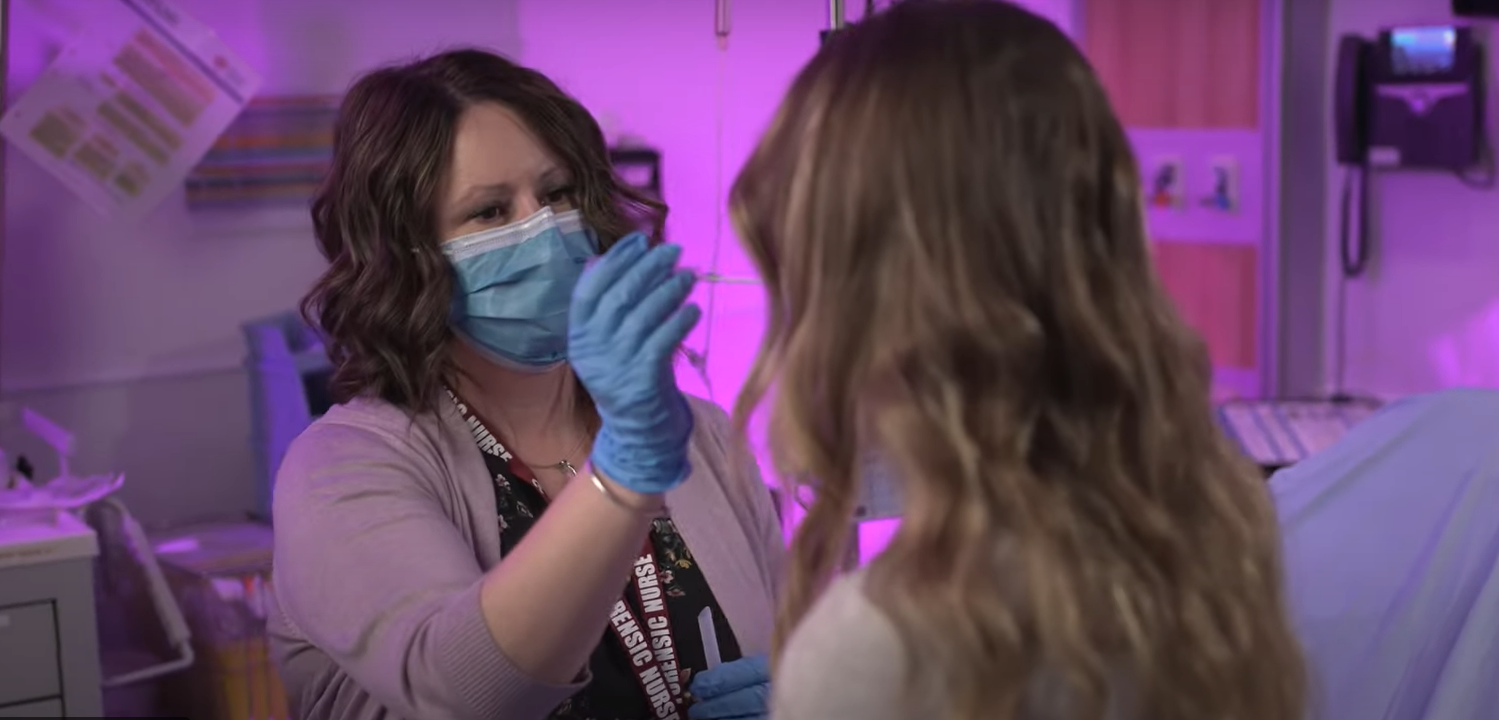 Aimee Falkenberg, FNE, conducts a forensic exam
Forensic nurses are registered nurses with specialized training to care for people who have experienced sexual assault or intimate partner violence. They are often the first contact that a person affected by violence has with a health-care provider. This work requires specialized training and experience as forensic nurses gather samples that can be stored, and if necessary, used in court. 
Aimee Falkenberg, coordinator of the Forensic Nursing Program for Central and North Vancouver Island, approached Island Health Simulation to explore what might be possible, since simulation technology is often used for skills training across the health care continuum.
"My team of forensic nurses have ensured that our on-call schedule has been covered 24-hours a day and 7 days a week, even throughout the pandemic," said Falkenberg. "The simulated walk-through of a patient forensic exam allows the forensic nurse to ask questions, watch videos and test their knowledge, providing them with the confidence they need to keep their skills current and conduct a forensic exam."  
"Our new training platform is generating a lot of interest in the forensic nursing community," said Jan Calnan, Coordinator of the Forensic Nursing program for the South Island. "Island Health is creating an innovative training program that is very user-friendly and the first of its kind for forensic nursing in the province. Over time we plan to add different training scenarios that will help our forensic nurses to stay current in their field. It also has great potential to be adapted and shared with our Provincial and National forensic nursing community, so it's very exciting."
Within Island Health there are 50 registered nurses with this specialized training. They provide 24/7 coverage to be available to survivors of sexual assault and domestic violence who present at one of the 13 acute care emergency departments, or survivors can call the 24/7 crisis line at 1-888-494-3888. 
For more information about Forensic Nursing Examiner services and sites within Island Health, please visit https://www.islandhealth.ca/our-services/forensic-nursing-services/forensic-nursing-services.