Patients and their families at Nanaimo Regional General Hospital will once again benefit from the incredible generosity and commitment of the Nanaimo Hospital Auxiliary.
At their Annual General Meeting on March 28, 2022, the Auxiliary presented NRGH leadership with a donation of $502,000. The funds will be used to purchase vital perinatal and bariatric equipment, as well as comfort items for patients at NRGH. These comfort items, including breast pumps, car seats and walkers, will play an important role in creating the best possible patient care experience.
"This was our first in-person meeting in three years and we were delighted to welcome NRGH team members," said Phil Robling, President of the Auxiliary. "While we all felt the challenges related to the pandemic, it did not stop our Auxiliary members from volunteering their time and effort. It is thanks to their dedication that we are able to make this donation."
"We can't even begin to express our gratitude to the Auxiliary for their tireless efforts to support our hospital," said Marci Ekland, Director of Clinical Service Delivery at NRGH. "To be able to offer our appreciation and see everyone's smiling faces was a special experience for our team."
"The Child, Youth and Family program is so thankful for the generous donation of much needed equipment for labouring mothers, infants, and children this year and every year," said Trina Knight, Manager of Child, Youth and Family Acute Care at NRGH. "We are so fortunate to have this hard working group of volunteers supporting us and our work."
"We are so grateful for all that the Auxiliary does to support NRGH. It is amazing how a cartoon Band-Aid can turn a hospital encounter into a positive experience for a child," says Dr. Kelly Cox. "I've seen many grateful moms with tears in their eyes as they are given a car seat to take their newborn home in. The Auxiliary's support brightens our days as providers."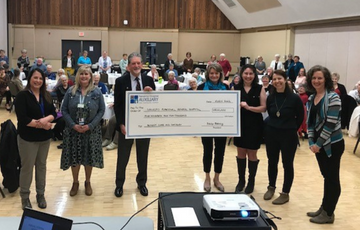 Photographed from left to right: Dawn McLean – Team Lead of Porter Services, Kelly McColm – Manager of ICU, HAU & Respiratory Therapy, Phil Robling – President, Nanaimo Hospital Auxiliary, Heidi Prinzing – Site Director, Trina Knight – Manager of Acute Child Youth & Family, Dr. Kelly Cox – Pediatrician, Marci Ekland – Director of Clinical Operations. 
Dr. Cox also shared gratitude on behalf of Dr. Regina Renner, Dr. Shaun Van Pel and Registered Midwife Yvanne Faught.
On top of delivering the generous donation, the Auxiliary also recognized the exceptional contributions of three members. Phil Robling, Jenny Robling and Darlene Kuffert were honoured for reaching a truly extraordinary milestone – 5,000 volunteer hours in support of the Auxiliary.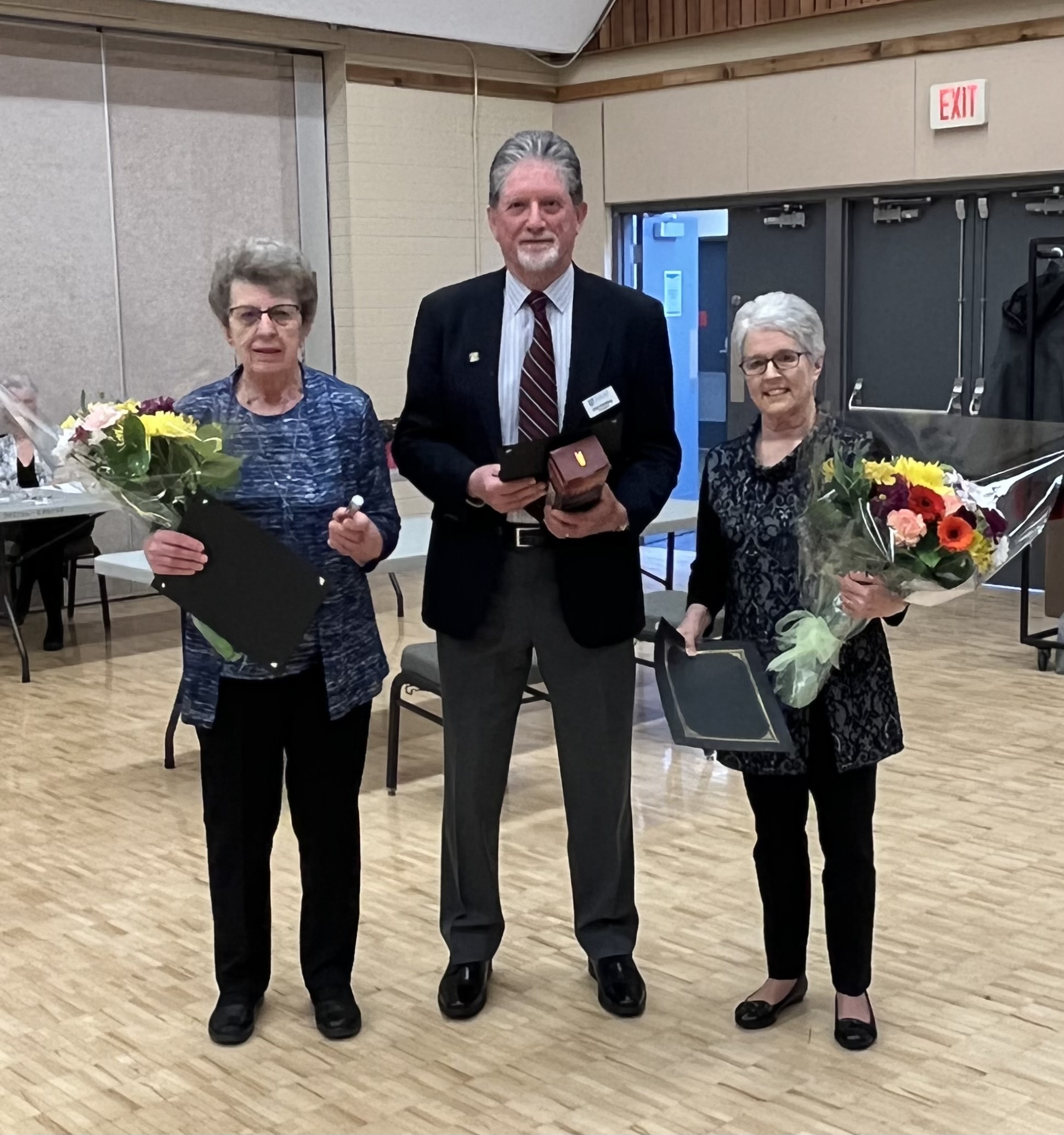 Photographed from left to right: Darlene Kuffert, Phil Robling, Jenny Robling.
---
About The Nanaimo Hospital Auxiliary
The Nanaimo Hospital Auxiliary is a long-standing all-volunteer organization that has raised more than $4 million for NRGH over the last 10 years. Its members provide nearly 40,000 hours of community service annually. The Auxiliary's mission is to provide service and financial help for patient care and comfort items.