Cutting edge research to create new diagnostic tools and tests, monitoring and treatments for a wide range of diseases and conditions, as well as the creation of a new COVID-19 biobank to gather data and biological specimens from COVID-19 patients across the region, is taking place at Victoria General Hospital (VGH).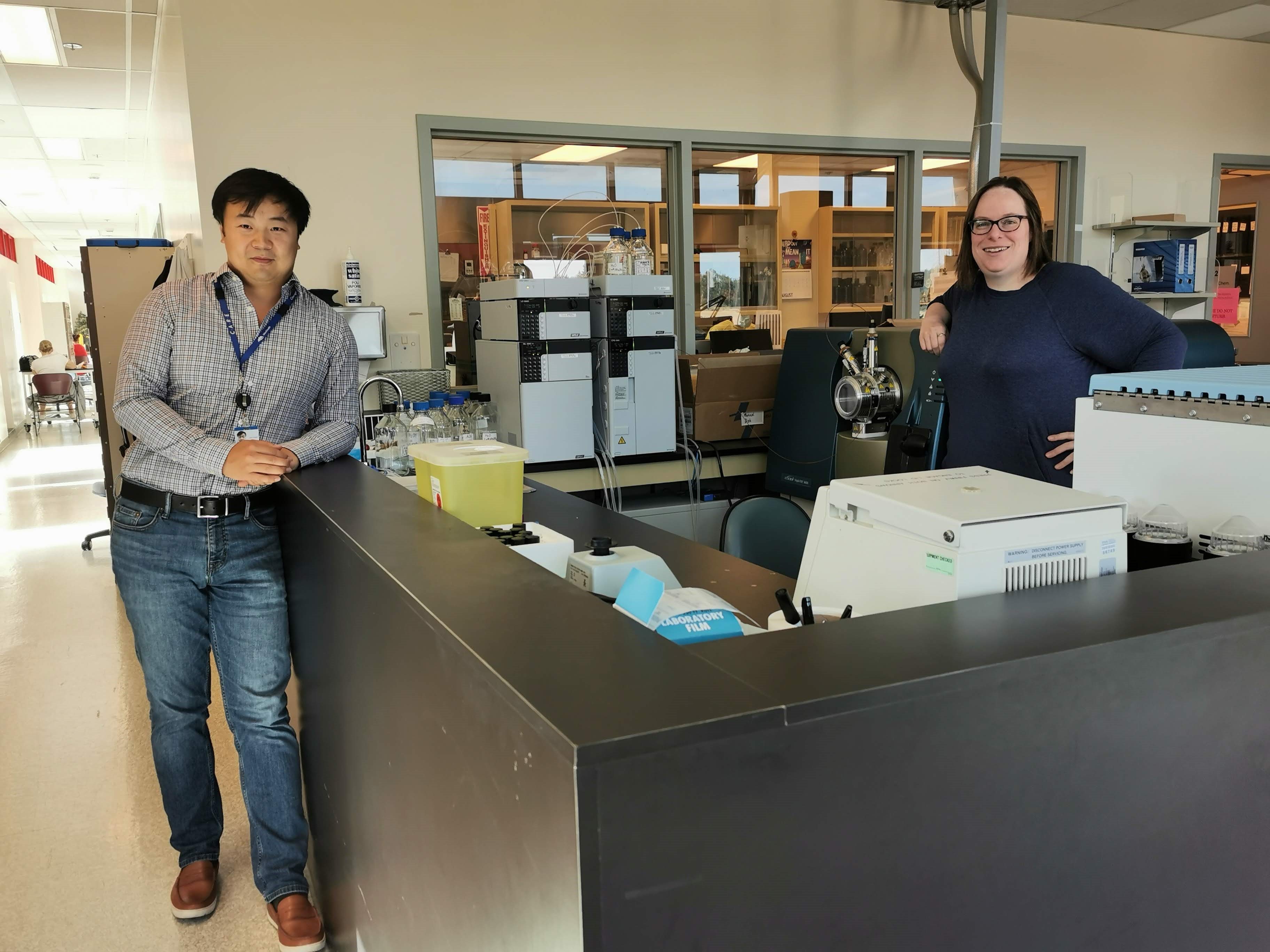 A collaboration between Island Health, University of Victoria, and University of British Columbia has resulted in Island Health allocating laboratory space at VGH for ground breaking research to take place, while UBC and UVic have provided $1.5 million in equipment grants. 
The COVID-19 biobank, a first for Island Health in collaboration with the BC Cancer Agency and other health authorities, was made possible through funding from the Victoria Hospitals Foundation and the UBC Faculty of Medicine, with additional support and expertise from Island Health's Research Department.
"Establishing this research facility alongside our existing clinical diagnostic lab at VGH is resulting in world class research that will benefit patients everywhere," says Leah Hollins, Island Health Board Chair. "Further, thanks to generous funding from the Victoria Hospitals Foundation and the UBC Faculty of Medicine, the creation of the COVID-19 biobank will play an important role in the fight against COVID-19."
"We strongly encourage our laboratory physicians to pursue quality improvement projects and academic research opportunities," says Dr. Alexander Finn, Island Health interim Medical Director, Laboratory Services. "This ensures the department remains at the forefront of diagnostic technology and that our patients receive the highest level of care."
Dr. Michael Chen is the leading medical researcher who oversees the new research lab and the COVID-19 biobank. Since the lab's inception, Dr. Chen has authored or co-authored eight publications in peer reviewed journals including Rapid Communications in Mass Spectrometry and Molecular & Cellular Proteomics. One published project involved the creation of a new test for the diagnosis, monitoring and treatment of iron metabolism disorders. The test is currently awaiting clinical validation and implementation.
Dr. Chen is also participating in on-going international research collaborations with Taiwan Medical University, National University of Singapore, and Radboud University Medical Center in The Netherlands.
"I'm delighted for the opportunity to conduct this important research, supported by our partners, using world class pieces of diagnostic equipment called mass spectrometers. Mass spectrometers are extremely important tools in bioscience research, and they are helping us to develop diagnostic tests that have not previously been available in British Columbia. This could include tests related to COVID-19," says Dr. Chen.

Mass Spectrometer
 In addition to research, the new lab has also been integrated into Island Health's clinical workflow with the aim of improving patient care. 
"The equipment in the new lab is not only being used for research purposes – it's also being made available for Island Health clinical laboratory staff to use as needed," says Catriona Gano, Island Health Director, Laboratory Services. "For example, because the equipment and software is so advanced our staff can produce toxicology results in much less time. This has greatly improved the quality, effectiveness and efficiency of our testing processes while significantly reducing our workloads."
These improvements to patient diagnoses and outcomes are expected to make lasting impacts, such as reductions in emergency department visits, fewer and shorter hospital stays, and enhanced quality of life and well-being for patients.
Dr. Bruce Wright, Regional Dean, UBC Island Medical Program and Head, UVic Division of Medical Sciences, was instrumental in securing the funding for the lab research project. The intention is to eventually create a Centre for Translational Omics laboratory at VGH, with representatives from Island Health, UBC and UVic currently working together toward that goal.
 "Research is integral to solving some of healthcare's most pressing issues and collaboration between organizations is key," says Dr. Wright. "It's exciting to see how Dr. Chen's laboratory is already producing the kind of research that healthcare providers need to provide the best care possible to their patients."
The COVID-19 biobank will allow researchers to focus on tests to better detect the virus, and identify features relevant to diagnosis and personalized treatment. The samples collected from across the Island will also help researchers understand the complications of COVID-19 over the long term. With patient consent, these specimens will be stored and used in quality improvement and research projects. The specimens are also available for use by healthcare researchers in other parts of British Columbia and Canada.
Media inquiries:
Dominic Abassi
250-755-7966
Dominic.Abassi@islandhealth.ca