A teen who started a foundation to raise awareness about homelessness and a college student whose journey with mental illness and recovery is revealed in a local documentary are the winners of Island Health's 2022 MHSU Community Service Awards. 
Marjike McDonald and Cameron Webster were presented their awards today by the Mental Health and Substance Use (MHSU) South Island Advisory Committee during Mental Health Week. 
"Congratulations to this year's award winners and community champions," says Sheila Malcolmson, Minister of Mental Health and Addictions. "Their inspiring efforts offer hope, compassion, support and connection for people living with mental health and substance use challenges, their loved ones and their communities." 
In 2020, when she was just 16, Marijke McDonald started the charitable foundation Home is Where the Heart is – spurred by concerns about homelessness that she's had since she was a child. "The feeling of just not being able to help was really frustrating for me," says McDonald. "The unhoused community in Victoria is a vital part of our community, and I really wanted to get to know that side of Vancouver Island."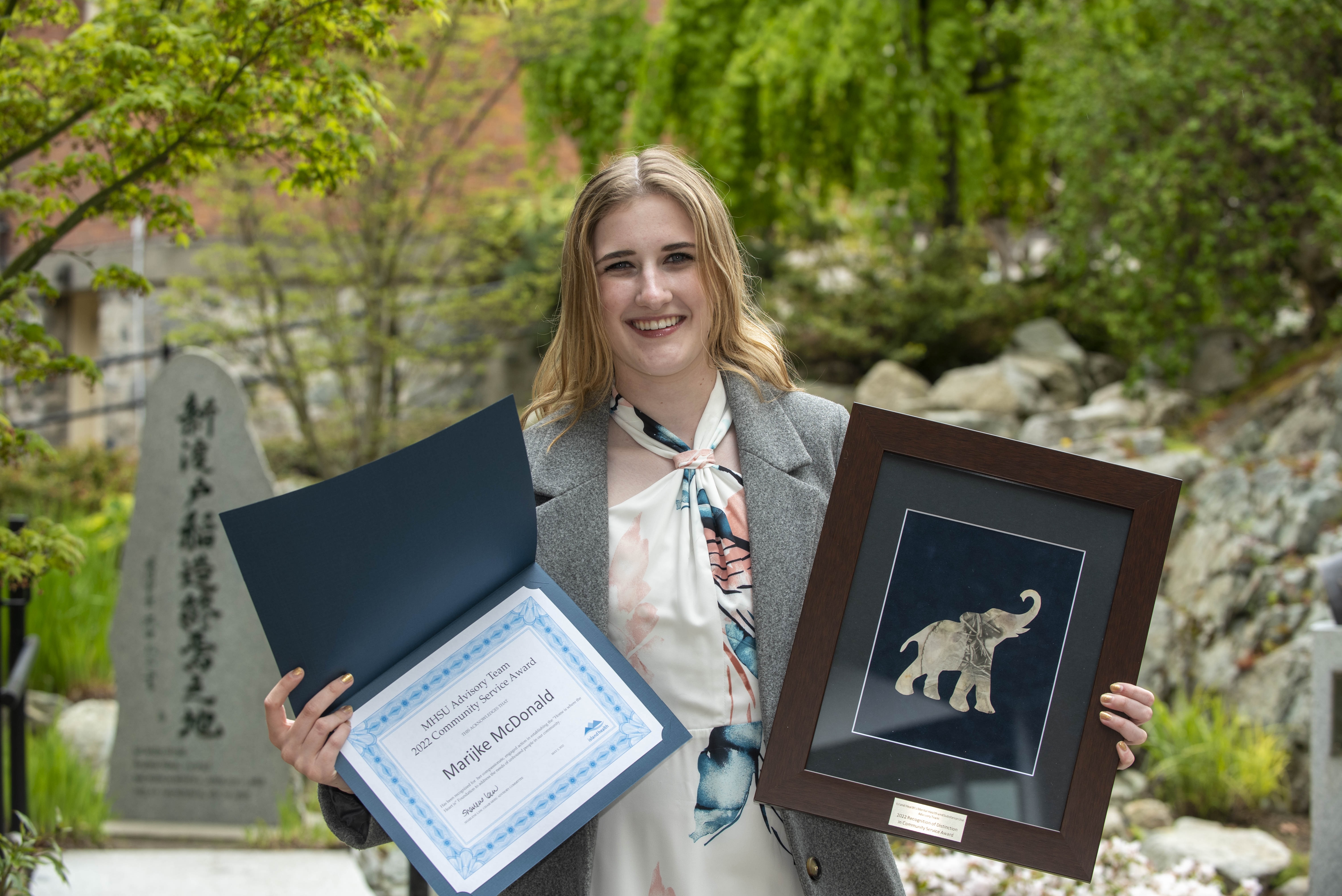 Marijke McDonald
An initial project to collect donations for a dozen care packages drew such a strong response that more than 50 packages resulted. Today, she and her foundation colleagues – other high school students – are planning an event where people, unhoused and otherwise, will be encouraged to share stories and make connections. "Something that's really stood out to me is that everyone just wants to be heard," says McDonald. "That's one of the biggest things I've learned – we will find the most success when we finally start to listen to each other."
Cameron Webster displays courage, vulnerability and perseverance in Follow My Brain – a film that documents his journey with, and recovery from, mental illness. In 2014, Webster was diagnosed with psychosis; about a year later he was then diagnosed with schizoaffective disorder, which features symptoms of schizophrenia and mood disorders. "The main goal in doing the film was just to instill more hope, to tell a more auspicious story of recovery," says Webster, now 26. "I wanted to kind of change that narrative if I could."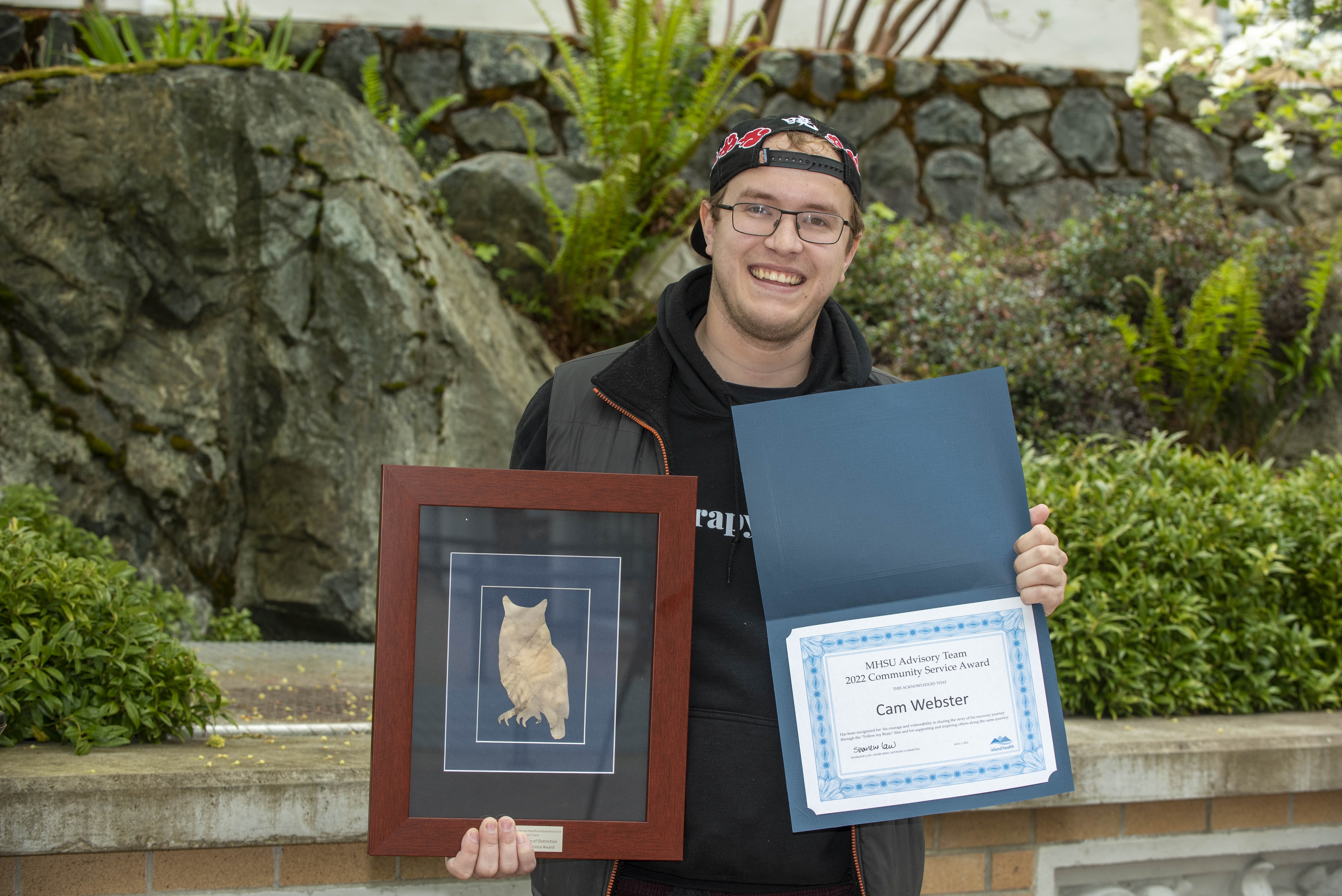 Cameron Webster
Today, he is nearing completion of his studies in Mental Health and Addictions at Camosun College. An avid athlete, Webster is also a peer support worker with Island Health's Early Psychosis Intervention program. He offers words of encouragement for others grappling with mental health issues. "There's so many things you can do. As well as just time and effort – things get better," says Webster. "It takes time, but you know you can get there. The person who moves mountains starts by carrying away small stones, right?"
The MHSU South Island Advisory Committee identifies community members who make a difference in the lives of people with mental health and substance use challenges. It also purchases artwork from artists with lived experience to present to the award recipients. 
"Each year as we review dozens of award recommendations our committee takes time to reflect on the incredible people who share our community," says Sharlene Law, chair of the advisory committee. "We are always in awe of the kindness and compassion that is shown to those who struggle with mental health and substance use issues. Congratulations and thank you to this year's well deserved winners."