Water is an integral part of our lives. It gives us life, but it can also take it away. From 2001 to 2020, there were 276 fatal drownings in Island Health.
According to the World Health Organization (WHO), drowning was the cause of over 2.5 million preventable deaths worldwide in the last decade, which is equivalent to 236,000 lives lost to drowning every year, 650 every day and 26 every hour.
For drownings that do not lead to death, survivors may have permanent disabilities due to oxygen deprivation-caused brain injuries. 
"Rivers can be unforgiving and stronger than you are," said Duane Young, Chief of Operations for Nanaimo Search and Rescue, whose 22-member swift water rescue team is called out all too often for swift water rescues at the Nanaimo River and local Nanaimo lakes.
"The water doesn't have to be fast-flowing to cause a drowning, which can occur in as little as 10-30 seconds and is often silent. Distressed or injured victims will be panicked and call for help.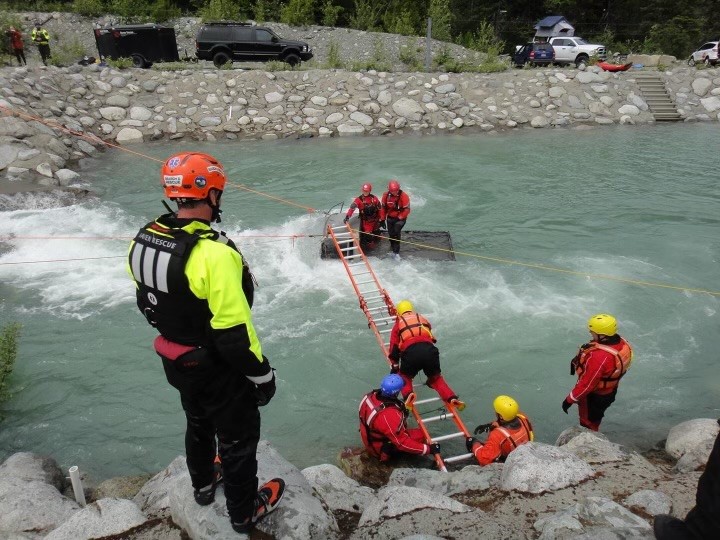 Nanaimo Search and Rescue team members practice their swift water rescue skills.
However, true drowning non-swimmers, such as children, rarely yell for help or splash at the surface."
In 2021, the United Nations (UN) established July 25 as World Drowning Prevention Day to draw attention to this significant international issue that has been largely unrecognized relative to its impact, yet it is an issue that affects every part of the world, including Vancouver Island.
In fact, according to the UN, the rates of drowning deaths per 100,000 population are highest in the Western Pacific Region. 
"Even an experienced swimmer can get into trouble quickly because of factors like bad weather, fatigue, water currents or a medical emergency," said Dr. Dennis Kim, Medical Director, Trauma Services at Island Health.
"What starts off as an isolated lung process or aspiration can lead to multiple organ failure and cardiac arrest in minutes without intervention. This is precisely why swimming alone is never a good idea." 
Having swimming skills is important, and it should be encouraged.
"Drowning is a leading killer, but it can be prevented by building multiple layers of protection," said Neil Arason, Lead for Injury Prevention at Island Health. "Separating alcohol from water activities, supervising young children closely, wearing a PFD (life jacket), watching for bad weather, being alert to currents, and, if possible, swimming in a lifeguard-supervised setting all contribute to your safety." 
Added Young: "Drowning doesn't have to be an accident or fate. We know it is preventable by being responsible and taking safety precautions when enjoying our local waters. Anyone can drown, no one should.