On April 10, Island Health is delighted to be celebrating BC Indigenous Nurses Day, in honour of Charlotte Edith Anderson Monture, the first Indigenous person in Canada to become a registered nurse. BC Indigenous Nurses Day recognizes First Nations, Inuit and Métis nurses who are courageously helping to create a more culturally safe health-care system. We recognize their tenacity, courage, commitment, and activism, and their invaluable role in improving safer care for Indigenous patients, families and staff.
Monique Pat is an Indigenous Liaison Nurse at Island Health and a Band member with T'sou-ke (Sooke) First Nation. She has family ties with the Namgis (Alert Bay), Ditidaht (Port Alberni), Cowichan (Duncan) & Songhees (Esquimalt). She is a Registered Psychiatric Nurse working at Victoria General Hospital and is honoured to share her journey about becoming an Indigenous Liaison Nurse.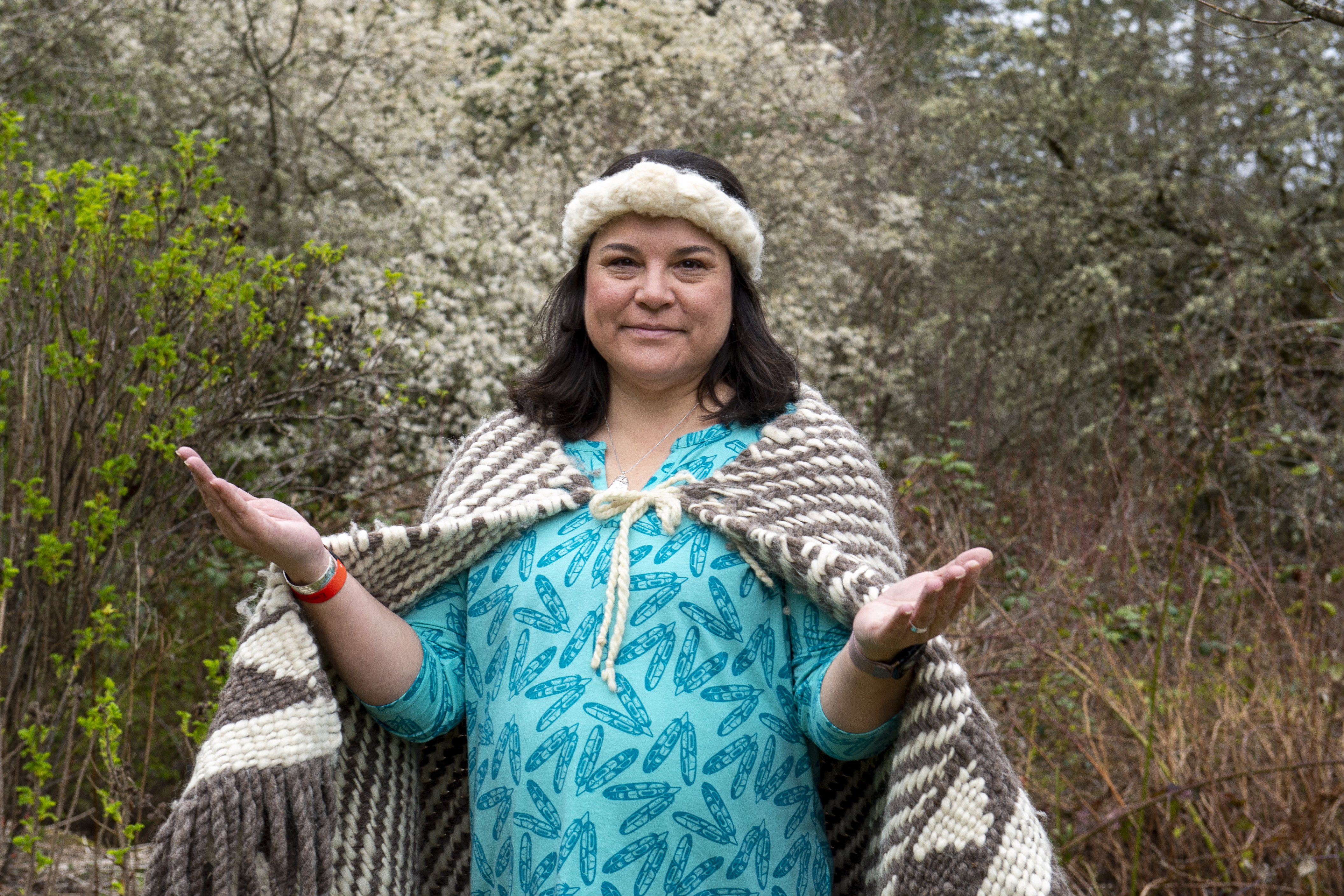 Monique Pat is an Indigenous Liaison Nurse at Island Health and a Band member with T'sou-ke (Sooke) First Nation.
Monique began her career in 1997 as a Home Support Worker, working closely with the Namgis First Nation Elders in Alert Bay to learn the language that would help her care for Indigenous patients. Monique's Home Support Worker instructor at North Island College was a nurse with First Nations ancestry who encouraged Monique to think about becoming a nurse. 
Monique eventually returned to T'sou-ke (Sooke), where she had lived most of her life, and was leading a cedar weaving craft night one evening and a nurse from out-of-town attended. The nurse was providing health support for the local T'sou-ke Nation, and they became friends. Her new friend also encouraged her to pursue nursing as she recognized that Monique had a special gift for helping people. 
Monique was working as a Hospital Liaison Support Worker in Victoria alongside a Métis Registered Psychiatric Nurse who was treating Indigenous patients. They heard many challenging stories and witnessed a lot of hardships. Monique wanted to ensure that Indigenous clients felt supported and empowered to take charge of their own care, and thought that she might be able to make a difference, so in 2006 she returned to school to pursue psychiatric nursing.
When she graduated Monique was hired by Island Health to work as an Indigenous Liaison Nurse at Royal Jubilee and Victoria General Hospitals. "An Indigenous Liaison Nurse works with Indigenous patients from birth to death," she explains. "We are a bridge between two cultures, working from a holistic, culturally safe perspective, empowering patients from a strength-based practice. We help Indigenous patients navigate the healthcare system so they can receive the services they need in order to have a safe experience, and ultimately improve their health outcomes."
An Indigenous Liaison Nurse's role extends far beyond the job description—they listen, they advocate; they try to protect Indigenous patients in their most vulnerable moments within a health-care system that includes systemic racism and discrimination. "We listen to understand what is going on," said Monique. "We walk with them, and are sometimes engaged with them for a long time." 
Everything is about permission, to have informed consent for the services they receive. "We play a critical role in the health-care system to create safety in the clinical encounter, reduce barriers to accessing health services and bring forward action-oriented approaches to influence and impact systemic change. We are always learning and adapting to improve our practice."
Monique's nursing friend from the cedar weaving craft night all those years ago continued to mentor her and they worked together for a number of years, until her friend retired. Now in her 15th year of nursing, Monique feels honoured to work with Indigenous patients. "I see it as a sacred and personal time," she said. "The Indigenous community really appreciates the support, especially if racism is involved. Cultural safety is important for all of us, not just for Indigenous people."
The attempted assimilation and genocide of Indigenous people into colonial Canadian culture provided the foundation of health disparities today. Monique is keenly aware of the social determinants and Indigenous specific racism that influence health inequity and hopes for healthier perspectives in the health-care system. When it comes to promoting safer care for Indigenous patients, families and staff, Monique encourages other nurses to further their learning regarding anti-racism and lead with openness and curiosity. "Let the patient lead their care," she says. "A nurse who practices safe care interacts with patients in such a way that the patient receiving care defines it. It's important to listen. Our Elders say we have two ears and one mouth for a reason and Indigenous people have had no voice for too long. You don't have to know everything to be working with Indigenous people, but humility and respect is an important aspect of safe, healthy care."
Always advocating for Indigenous people, Monique was an ambassador for the Every Child Matters Campaign in 2013, which Phyllis Webstad started with her Orange Shirt story. Today, Monique is active with the Truth and Reconciliation group and Every Child Matters campaign in Sooke. "My late mother was my mentor and groomed me to lead in our traditional ways. We can't reconcile without telling the truth, and truth-telling is the important stage we're in now. I am hopeful that we can look forward to a healthier relationship with our Indigenous communities across Canada."
Monique's father, Joseph Taylor, was an early positive influence, working as a Licensed Practical Nurse in the 1970's. "Indigenous Nurses Day is a reminder of my ancestors' hard work and how far Indigenous people have come to have a voice in health-care. I am so happy that there is a day set aside to recognize Indigenous nurses, to honour who they are and where they come from. We bring a perspective to health-care that helps our people feel safe in the system."
Monique takes pride in knowing that she's able to help patients and their families during their toughest times and help make their journey a little better. "Becoming a nurse, for me, was a great challenge and a great accomplishment. I am honoured to have a day where I can acknowledge this accomplishment and those of other Indigenous nurses."